AIA Kansas City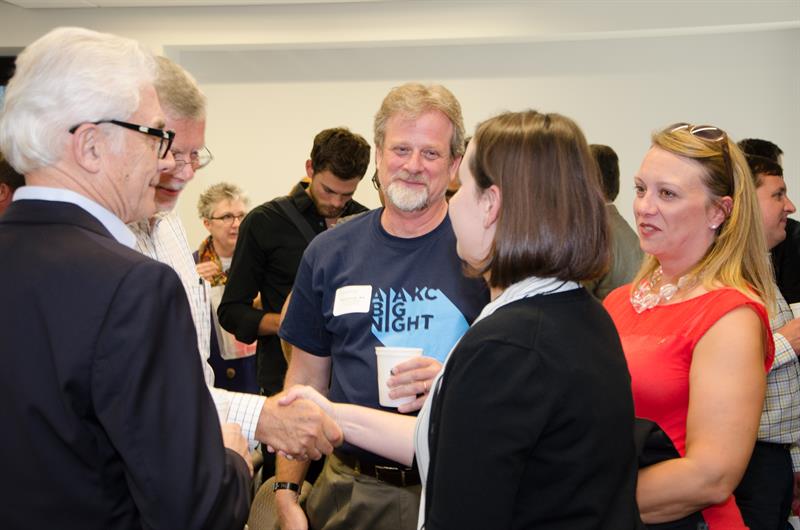 ​AIA Kansas City provides services and benefits that empower architects to create environments that enhance quality of life and our collective future.
Our Strategic Plan focuses on four priorities:
Elevating the Value of Architects
Foster the Future
Intentional Knowledge Sharing
Equity + Diversity + Inclusion
AIA Kansas City
Full Strategic Plan >
---

Equity, Diversity and Inclusion Policy
AIA Kansas City is a membership committed to the respect, value, and celebration of diversity and inclusion in order to achieve and sustain excellence in our mission and strategic goals. We recognize that the responsibility for excellence, diversity and inclusion lies with all of us through individual and collective action. We believe that bringing diverse perspectives together allows us to more effectively create opportunities to advance our profession and address issues that face our community.
AIA Kansas City, in line with AIA National, believes: "Leadership in design and construction requires collaboration. Architects must encourage and celebrate the contributions of those who bring diverse experiences, views, and needs into the design process. [AIA Kansas City] supports the promotion of human and civil rights, the universal respect for human dignity, and the unbiased treatment of all persons in employment, civic, and business transactions.
Embracing a culture of equity, all programs and initiatives of [AIA Kansas City] shall [strive to] reflect the society that we serve, [and shall support all membership] regardless of race, ethnicity, gender, gender identity or expression, sexual orientation, physical abilities, or religious practices.
The American Institute of Architects, as part of the global community, champions a culture of equity, diversity, and inclusion within the profession of architecture to create a better environment for all. Achieving this vision has a direct impact on the relevance of our profession and the world's prosperity, health, and future.
---

Tearing Down and Building Up: A Statement by AIA Kansas City
AIA Kansas City condemns the racial injustice and violence against the Black community that has broken our hearts and spirits not just this past week, with George Floyd's death on May 25, but for the years, decades, and centuries that preceded his time on Earth. We believe excessive force by police should not be tolerated anywhere in our country. AIA Kansas City supports protesters using their voices and their calls for systemic change and accountability.
Here in our community, AIA Kansas City recognizes the many deeply ingrained inequities that have prevented our "KC Heartland" from truly thriving and uplifting all racial and socioeconomic groups. We know that historic redlining policies to deny homeownership and opportunity for its Black citizens have divided our community along racial lines for decades. The progress on improving these historically underserved and underinvested neighborhoods has been too slow. Opportunities for quality public school education for Black and other minority children in our urban school districts has lagged far behind the opportunities for children in white suburban neighborhoods. This education deficit is unacceptable. These are just two examples of where we need to change the profoundly damaging narrative of "Black is bad."
Our industry and our local Kansas City chapter of AIA are historically white and male. We see and hear our own Black and People of Color members and we know we have a long way to go, perhaps generations, until our workforce more beautifully reflects the diversity of our nation.
The collective pain, sorrow, and anger we have felt in the past 10 days must be replaced by a pledge for positive change, meaningful discourse, and purposeful steps toward unity and peace. As one tangible commitment to healing our community, AIA Kansas City has made two donations that reflect our desire to expand and make space for safety and opportunity for the Black community in Kansas City:
1) Reale Justice Network, founded by Justice Gatson. Gatson's work is part of an effort by the National Bail Out collective to call attention to the issue of incarcerated black women and is committed to ending pretrial detention and mass incarceration, which disproportionately hurts Black communities. At the core of this decision, we hope that our chapter's donation will help in Gatson's initiatives that support Black people.
2) Nico Giles Media. Nico Wiggins produced a documentary film called "Land of Opportunity," which aired on KCPT last winter, about the historic Santa Fe neighborhood, redlining, and institutionalized racism expressed through housing and real estate. It's one of the key issues whose effects still drive inequality in Kansas City today. We appreciate that Nico is trying to raise up honest, authentic, and transparent stories and conversations about justice, integrity, and equity.
AIA Kansas City will continue to support organizations and initiatives that focus on equity, diversity, and inclusion.
It's clear that the time for change is NOW. Please join us in promoting racial justice and equitable communities. Everyone can be an advocate, and everyone is needed to make positive change. We welcome your input and involvement in these efforts.
Respectfully,
AIA Kansas City 2020 Board of Directors
Ryan Warman, AIA, President
Amy Eckhoff, AIA, President-elect
Andy Pitts, AIA, Past President
Kara Bouillette, AIA
Bill Bourne, AIA
Chris Davis, AIA
Whitley Fields, AIA
Don Greenwell
Nick Lawler, AIA
Rebecca Roberts, AIA
Stephenie Smith, MSW
Rodney Smith, Ed.D.
Jean Stoverink, AIA
Dawn Taylor, Executive Director
---

Antitrust Policy
The Policy of the Chapter is to conduct its activities in full compliance with the antitrust laws. This Policy requires all of its members to conduct the activities of the Chapter in a manner that is not in conflict with any state or federal antitrust law. No member of the Chapter has any authority to act contrary to this Policy, or to authorize or direct violations of it by any other member, employee of the Chapter or any other person.