Licensure
AIA Kansas City is committed to advising and assisting aspiring architects navigate the path to licensure. If you are just starting your journey, please see the helpful links below. Don't hesitate to contact your local Architect Licensing Advisor, Amy Tonyes, with any questions. Here are some helpful links to get you started.
The Basics
Establishing Your NCARB Record
Start the AXP
Start ARE 5.0
Get Licensed
---

Architect Registration Exam (ARE)
AIA Kansas City provides support for Associates who are preparing to, or have already, embarked on the journey to licensure. Hard copies of study materials are available for Associate members to check-out for two weeks at a time. The chapter has prep material from Brightwood and PPI and a wealth of additional resource materials available. In addition, study sessions for all six divisions of the ARE are held throughout the year and are led by recently licensed members and local engineering experts. These study sessions are open to AIA Kansas City members.
---

ARE Resources
Join the ARE 5.0 Community
NCARB ARE 5.0 Video Prep Series
Pass the ARE
---

ARE Success Teams
This program teams up individuals preparing to start the examination, and helps future architects overcome testing challenges through a supportive, small group setting. Applications for ARE Success Teams go out each December. You must be an AIA
Kansas City member to participate
---
Licensure Matters:
Callum Vierthaler, AIA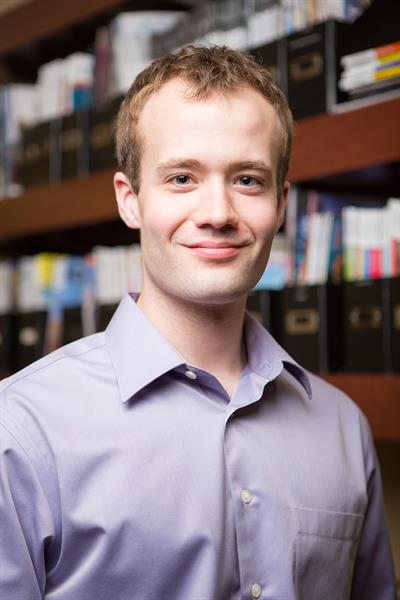 Licensure Matters is a monthly series where we feature newly licensed members in an effort to inspire those currently on their journey. If you're newly licensed and want to be a part of the conversation email amy@aiakc.org.

How long did it take for you to complete your experience and all of the divisions of the exam?
I started the path to licensure in 2013 after graduating from the University of Minnesota. I worked for a year in the architectural field before enrolling in KU's Master's program. I continued to work part time while in school and spent my last year of the master's program in a full-time internship accruing IDP hours. I completed the required number of internship hours roughly 6 months after graduating and began testing in September of 2017. It took me 14 weeks to study for and pass all of my exams, and I became licensed a little over 4 years after starting the AXP process.
What was your study/test taking strategy?
I have always been best at studying under pressure. I would schedule my test to help motivate myself to start studying, but I always ended up doing the majority of my studying in the week leading up to my test
How did you stay motivated?
The goal of completing the licensure process after working towards it for 4 years was enough to keep me motivated. It really helped to have the support of friends, colleagues, and mentors pushing me as well.

Why was earning a license important to you?|
Licensure felt like a difficult but tangible milestone in my life. I was excited to pursue it, and even more excited to achieve it because it opened up opportunities that were not otherwise available.

What advice do you have for others going through the process?
Ask the people around you for support, advice, and resources. Most architects are happy to share their advice and experiences with other colleagues in their field.
How did your firm support you?
Pulse Design Group and my coworkers were incredibly supportive during this journey. Pulse was kind enough to pay for the cost of the tests, and provide time off to take them. My coworkers shared advice and past study material that they used to prepare for the tests, which made the entire process easier and more affordable.
What do you think is the biggest challenge that the profession currently faces?
My experience in the industry has shown that our profession is slow to adapt to changes in technology. I am a very strong advocate for using technology to further the profession, and improve the day-to-day activities for architects. I think embracing the rapid pace of change will set firms apart, and improve the overall work environment and project outcomes for architects across the profession.