Licensure
AIA Kansas City is committed to advising and assisting aspiring architects navigate the path to licensure. If you are just starting your journey, please see the helpful links below. Don't hesitate to contact your local Architect Licensing Advisor, Amy Tonyes, with any questions. Here are some helpful links to get you started.
The Basics
Establishing Your NCARB Record
Start the AXP
Start ARE 5.0
Get Licensed
---

Architect Registration Exam (ARE)
AIA Kansas City provides support for Associates who are preparing to, or have already, embarked on the journey to licensure. Hard copies of study materials are available for Associate members to check-out for two weeks at a time. The chapter has prep material from Brightwood and PPI and a wealth of additional resource materials available. In addition, study sessions for all six divisions of the ARE are held throughout the year and are led by recently licensed members and local engineering experts. These study sessions are open to AIA Kansas City members.
---

ARE Resources
Join the ARE 5.0 Community
NCARB ARE 5.0 Video Prep Series
Pass the ARE
---

ARE Success Teams
This program teams up individuals preparing to start the examination, and helps future architects overcome testing challenges through a supportive, small group setting. Applications for ARE Success Teams go out each December. You must be an AIA
Kansas City member to participate
---
Licensure Matters:
Tabitha Darko, AIA

Licensure Matters is a monthly series where we feature newly licensed members in an effort to inspire those currently on their journey. If you're newly licensed and want to be a part of the conversation email amy@aiakc.org.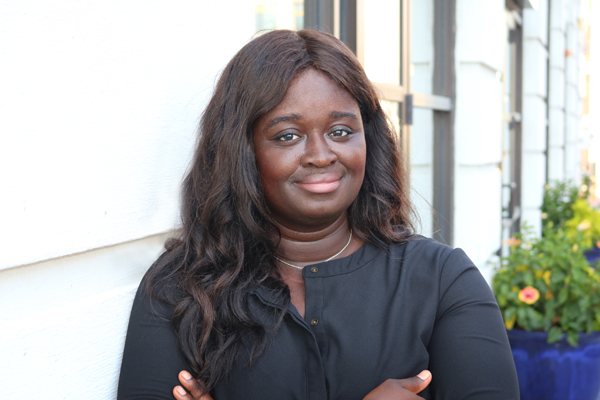 How long did it take for you to complete your experience and all of the divisions of the exam?It took me 3 years to complete my ARE exams in the 4.0 version and that also aligned with about how long it took to acquire all of the necessary NCARB hours. My first exam was Programming Planning and Practice taken after working a year in the field. Towards the end of the exam, I realized I had made a fatal error on a vignette while checking my work and quickly tried to re-do the drawing before the clock went out. Disappointingly, I was too late and walked away from the exam knowing without a doubt that I failed because of that one mistake despite all of the studying and doing well in the multiple-choice section. It took me another 10 months (almost an entire year!) before I shook the discouragement off enough to continue my
journey to licensure.
What was your study/test taking strategy?
My studying strategy was to allow about 3-4 weeks to read each section associated with the division I was taking. Once the foundation was laid, I would allot 2 weeks for practice exams and flashcards. Flashcards and the practice exams helped me the most in targeting learning modules that needed more refinement and understanding. The last 3 days of these 2 weeks were dedicated to practicing vignette strategies and timing myself. My primary study material of choice was Ballast, and I chose to spend $500 to properly purchase all the resources and flashcards that came with it. Along with that, I had digital versions of Kaplan that were
shared by colleagues and a loaned flash card deck from the 3.0 ARE exams.
How did you stay motivated?
What helped me stay motivated was 1) having peers that were also working through the exams and knowing that I could share the difficulty of the process with others 2) treating myself to dinner with friends or something else I had been looking forward to post-exam and 3) sharing each pass…or even fail with my family and always getting the encouragement needed at each milestone.
Why was earning a license important to you?
Licensure was important to not only gain a full understanding of the scope of responsibility that we are expected to perform and uphold as architects, but also to allow myself potential freedom and independence to design and construct my own work (should I choose to do so) during my career.

What advice do you have for others going through the process?
I would say it's critical to diversify the study material that you use so that you have the best chance at being exposed to the material in various formats. Not all the exam is about regurgitating memorized facts, but rather taking understood concepts and applying it to important design scenarios that show your competency and mastery of the material.
How did your firm support you?
Thankfully, HOK is one of the most generous offices when it comes to the incentives and monetary expenses associated with getting licensure. We do have an acquired study material library for employees to borrow items from that provides some assistance. The office recently purchased a couple of licenses to Black Spectacles which is a beneficial ARE video prep series. On top of that, each employee gets up to 2 passes at each division fully covered (i.e. you could sit twice for each exam). The hours used to sit for the exam are also covered with full-time pay on the first try of each division, so you don't necessarily have to schedule a
weekend time-slot every time. There is also a one-time bonus of $1,500 when an employee achieves licensure.

What are 3 skills that every architect needs in their toolkit?
Great verbal and written communication skills. We are often not explicitly taught this skill in design school; however, it is imperative that architects be great story tellers and convincing voices for the vision they dream up for the built environment.
A forte for good construction methods and an understanding of constructability. I think having this basis also gives architects the power to be more creative with design solutions because of an ability to propose how something can be achieved.
The ability and willingness to learn new methods and programs, because our industry is ever-changing as we learn new and more efficient ways to design and build.