Licensure
AIA Kansas City is committed to advising and assisting aspiring architects navigate the path to licensure. If you are just starting your journey, please see the helpful links below. Don't hesitate to contact your local Architect Licensing Advisor, Amy Tonyes, with any questions. Here are some helpful links to get you started.
The Basics
Establishing Your NCARB Record
Start the AXP
Start ARE 5.0
Get Licensed
---

Architect Registration Exam (ARE)
AIA Kansas City provides support for Associates who are preparing to, or have already, embarked on the journey to licensure. Hard copies of study materials are available for Associate members to check-out for two weeks at a time. The chapter has prep material from Brightwood and PPI and a wealth of additional resource materials available. In addition, study sessions for all six divisions of the ARE are held throughout the year and are led by recently licensed members and local engineering experts. These study sessions are open to AIA Kansas City members.
---

ARE Resources
Join the ARE 5.0 Community
NCARB ARE 5.0 Video Prep Series
Pass the ARE
---

ARE Success Teams
This program teams up individuals preparing to start the examination, and helps future architects overcome testing challenges through a supportive, small group setting. Applications for ARE Success Teams go out each December. You must be an AIA
Kansas City member to participate
---
Licensure Matters:
Rebecca roberts, AIA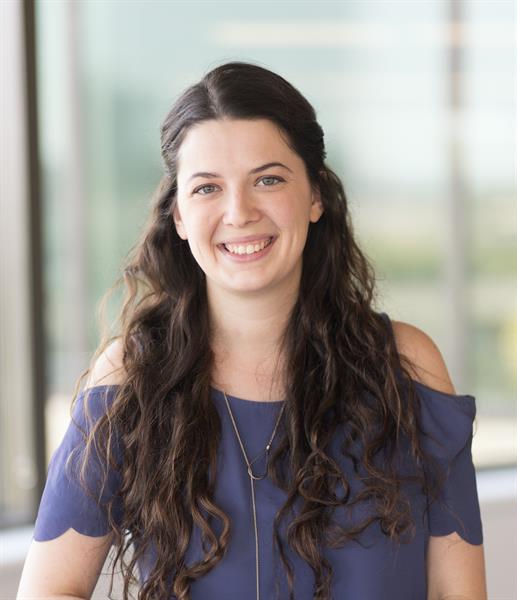 Licensure Matters is a monthly series where we feature newly licensed members in an effort to inspire those currently on their journey. If you're newly licensed and want to be a part of the conversation email amy@aiakc.org.

How long did it take for you to complete your experience and all of the divisions of the exam?
I started my tests with the ARE Success Team in January 2016 and finished all 7 sections of 4.0 in 9 months. The AXP hours took another year to finish up since Kansas still requires the full 5600 hours.
What was your study/test taking strategy?
Other than joining the ARE Success Team (which I highly recommend), my strategy was to over-study. I wanted to read and listen to everything I could get my hands on. I also tried to find places away from home so that I could keep myself from other distractions (napping and Netflix were the big ones). It's not typically socially acceptable to nap in a coffee shop.
How did you stay motivated?
I would usually try and plan something fun to do in the free week after the test. It always gave me something to look forward to while studying. Additionally, I would take Friday off from studying. It gave me a good chance to catch up with friends and family since I would pretty much ignore them the rest of the week.

Why was earning a license important to you?
It wasn't until I was in school that I realized I couldn't be an architect from school alone. I knew that if I put it off at all, it would just be harder and harder to find the motivation to get back into the school mentality of studying and testing. I also want to work abroad at some point in my career. While the license itself doesn't typically transfer it definitely helps show the skills and motivation I have.

What advice do you have for others going through the process?
Just do it. Tomorrow will always be harder than today to start, and if you make excuses now, you'll always find excuses later. There are a ton of resources through the AIA and KC firms that you don't have to go through the process alone.

How did your firm support you?
When I first started my testing, I sat down with the partners to discuss what the firm offers. I would recommend doing this early on. Their policy was to pay for all the tests one time. Basically, if you pass, you get reimbursed. It really helped with motivation since any test I failed I would have paid for out-of-pocket.
Anything else you'd like to share?
One thing that really helped was to meal plan. I would cook a ton in the 'rest' week after the test (before we started studying for the next section) and make freezer meals. Then when I was busy studying, I could just pull out a meal to heat up. It really helped to not have to cook in the weeks leading up to a test but still get something other than takeout. Granted I also became a regular at the Dragon Inn and the Thai Place.

Where do you find inspiration?
Anytime that I'm stuck or overwhelmed I find hiking to be very helpful. It's not going to work for everyone (ew bugs), and not everything needs to mimic a beehive, but I find it helps to clear your mind without the distractions of the people, cars, technology, etc. that we find in our everyday life. We have a ton of great parks throughout the city and a botanic garden on both sides of State Line. I try to include a small hike on most vacations now too. There are some National and State Parks that most people don't know about that are amazing!