Advocacy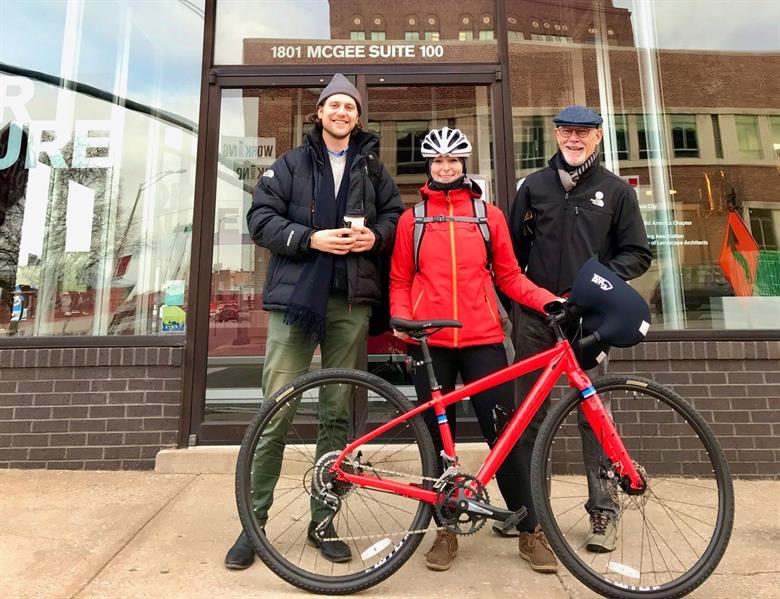 We are more than the buildings we produce; we are members of a greater community, and we can affect change with our skills and expertise. Our objective is to promote good design within our profession and community by way of positioning our chapter in the local and regional conversation. We will also strive to educate and inform our members on issues relating to our metropolitan area and beyond.
Locally, we have been meeting with city officials throughout the region in an effort to introduce what the AIA Kansas City can offer communities in terms of public support and/or design expertise. We have a large organization that can help inform priorities for our communities, and can provide a vision for our shared future.
If you are interested in learning more, or getting involved in our Advocacy Committee, please don't hesitate to reach out.
---
June Climate Action Notes

Submitted by Kirk Gastinger, FAIA, AIA Kansas City Advocacy Committee

This month is a 'summer reader' of information clipped to share information, resources and some inspiration to keep up your good design work - for a better community and better world.
Architecture's Carbon Problem / Buildings create about 40% of the world's carbon dioxide emissions. Architects can help solve this.
Operational carbon / To understand how the built environment contributes to global warming, look at its primary emission sources. Operational carbon is the CO2 emitted when a building is in use. Created by the consumption of energy to heat, cool, light, and power a building, operational carbon has long been a focal point of design for architects. New energy-efficient building design and renovations, as well as the use of renewable energy, have all helped to lower operational carbon levels. Operational carbon will account for about 26% of all CO2 emissions of the buildings constructed in the next 10 years.
Embodied carbon / Next, let's examine an emission source that has been long overlooked: Embodied carbon. Embodied carbon is the CO2 released during building construction, including extracting, transporting, and manufacturing materials. It's all the carbon emitted before a building is occupied. In the next 10 years, embodied carbon will be responsible for 74% of all CO2 emissions of new buildings constructed during that period. Compared with operational carbon, this is a staggering number. The embodied carbon of concrete, steel, and aluminum alone accounts for 22.7% of global CO2 emissions, and most of it is from buildings and infrastructure construction.
For architects, embodied carbon is crucial to consider. Unlike operational carbon, which can be reduced during a building's lifetime, embodied carbon is locked in as soon as a building is completed. It can never be recaptured.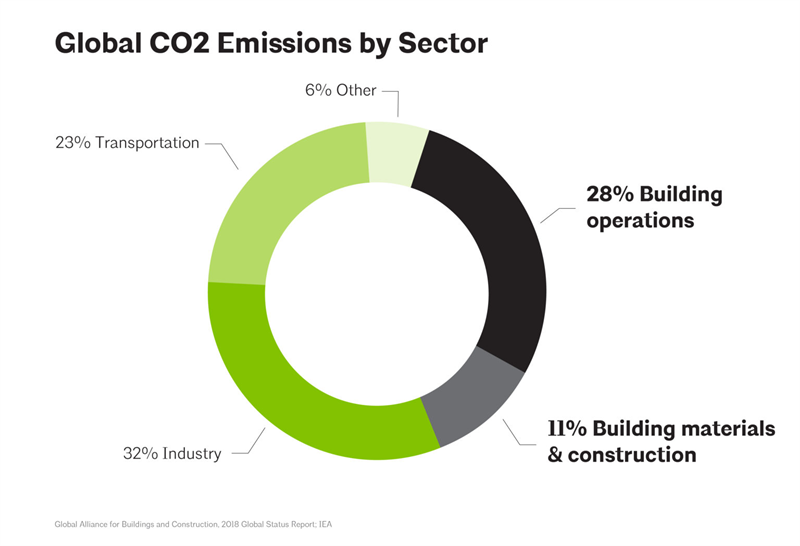 Reaching zero CO2 emissions in the built environment / It sounds daunting, but here's how we do it. For years, architects have focused on making buildings more energy-efficient. However, reducing energy does not equate to reducing environmental impact. Going forward, embodied carbon needs to be considered part of each project's emissions. A number of architects have already been creating new buildings that produce zero CO2 emissions. Now everyone must do the same. To reach zero emissions in the existing building stock, we must advocate for new policies that leverage building intervention points and encourage upgrades to energy efficiency at capital-improvement cycles or when clients lease or buy space. We can then hasten the rate of emissions reductions by making changes that include improving the efficiency of building systems, shifting to electric heating and cooling systems powered by carbon-free renewables, and generating carbon-free renewable energy.
To reach zero emissions in new buildings, we must measure and manage embodied carbon. This requires an understanding of how choices in the early phases of development and design will have impacts downstream. Considerations may include urban densification and infill that utilizes existing infrastructure, whether to adapt and reuse an existing building, how to select building materials created with zero emissions, and how to design a building to reduce material use or even sequester carbon.
For the full article: https://blueprintforbetter.org/?utm_source=real-magnet&utm_medium=email&utm_campaign=bp4b21-earth-day
AIA awarded four cool research projects recently that will influence the future of design.
The third one seems to have almost immediate application. Look it up, your next project might be the right one.
Adaptive Envelopes for a Changing Climate: Exploring Bistability for Building Envelope Design
Build Carbon Neutral v2.0: A Free Online Embodied Carbon Calculator for Approximate Building and Landscape Impacts
The third project, Mix Design Standard and Strength Gain Correlations Testing for Stabilized Compressed Earth Block (SCEB) Units, seeks to further enable the adoption of earthen materials in construction. Responding to a lack of quality assurance standards and commercially available mixes for earthen construction, the team will outline the material proportions and mixing process for reliably producing SCEB units. Topics of focus will include a streamlined process, a reduction in embodied carbon, and data-driven storytelling on how the materials could contribute to climate solutions. The research is led by Lauran Drown, AIA (Wiss, Janney, Elstner Associates), and Michael Donoghue, PE (Maritech Engineering), with collaboration from Celia Mendoza (Earthen Construction Initiative), Ron Evans (De la Tierra Construction), and Ryan Runge (Advanced Earthen Construction Technologies).
unPLANningMIAMI: A Transformative Design Framework for Strategic Decline and Resettlement of South Florida from the Effects of Sea-level Rise and Climate Change
For the full article: https://archinect.com/news/article/150261718/four-research-projects-advancing-climate-action-from-earthen-materials-to-embodied-carbon-calculators#.YIx4v66fzdg.gmail
The Embodied Carbon in Construction Calculator (EC3) is a free tool that enables architects to find and compare products in order to source low-carbon options available for purchase in their region. It also lets them plan and compare buildings by entering project material quantities to benchmark, set, and realize project-specific embodied carbon reduction targets.
For the full article: https://blueprintforbetter.org/articles/design-resources-to-help-stop-climate-change/
---

Our conversations with KCMO CIty Councilmembers

We recently reported to you about our first-ever City Hall Day held in October. Now, Advocacy Committee is sharing notes from these meetings and outreach to elected officials in KCMO.
One of the primary goals of our Advocacy committee is to nurture relationships with municipal leaders so that we can provide them with support and education regarding our profession and be a resource to them when needed. In the past, we have met annually with Mayors of many of the municipalities in our region; this year, we shifted the focus more towards meeting with City Council members, knowing that access might be more available with them. With this approach, we could focus our efforts on specific positions, committees, and council members that align with our profession.
This year, we had hoped to launch a new annual "City Hall Day," the intent was to align this with our other Big Sibs chapters in a united effort to educate our civic leaders on the importance of our profession and protecting the safety and welfare of the public. Although we could not do this in person this year, we did have several virtual meetings with KCMO City Council members, typically asking members who live in the district to be a part of these discussions. Overall, we found these to be extremely successful in having thoughtful and earnest dialogue regarding design and construction in Kansas City. We look forward to strengthening these relationships and expanding our conversation to other municipalities throughout the metro next year.
---

AIA Kansas City'S support on KCMO building and rehabilitation code Updates
Mr. Greg Franzen
Department of City Planning & Development
324 East 11th Street, 3rd Floor
Kansas City, MO 64106
Re: Updating the Kansas City Building and Rehabilitation Code

Dear Mr. Franzen:
AIA Kansas City is pleased to endorse the efforts of the Kansas City, Missouri Department of City Planning & Development in the update of the KC Building & Rehabilitation Code (KCBRC) to ensure health, safety, and welfare, while also enhancing energy efficiency, and improving the resiliency of Kansas City's future. We are aware that the draft document recommends the adoption of the most recent versions of the currently adopted model codes, including the:
2018 International Building Code
2018 International Residential Code
2018 International Fuel Gas Code
2018 International Mechanical Code
2018 International Private Sewage Disposal Code
2018 International Energy Conservation Code
2018 Uniform Plumbing Code
2017 National Electrical Code
American Society of Mechanical Engineers Safety Code for Elevators and Escalators; amendment
We are also aware of amendments that have been proposed. These amendments are regressive to the current practice of architecture, construction, and building science. We acknowledge they enable a minimal cost reduction for a project today, but the long-term impacts of constructing a less efficient building are compounding on our citizens and the environment. As architects, we are licensed to protect the health, safety, and welfare of the people who utilize our buildings and we declare opposition to these amendments:
Amendment to reduce roof insulation from R30 to R20
Amendment to make wood framed walls R13 in Group R and all other
Amendment to increase vertical fenestration to 40% from 30%
Amendment to have efficiency packages deleted
Amendment to have systems commissioning deleted
Thank you for the opportunity to comment on the City's building codes process and the new code adoption. AIA Kansas City supports the adoption of the non-amended codes as described above. We believe that the update of these codes is in the best interest of the citizens of Kansas City, Missouri.
With this code update, Kansas City will be a leader in this region for responsible building and development. Our hope is that the other metropolitan cities will use this document to adopt similar, if not identical, building codes to simplify the process of building in the Kansas City area and to promote responsible economic development that benefits us all.
Please feel welcome to contact us if we may be of further assistance.
Sincerely,
Randi Mixdorf, AIA
Co-chair, Advocacy Committee
Sam Loring, AIA
Co-chair, Advocacy Committee