Advocacy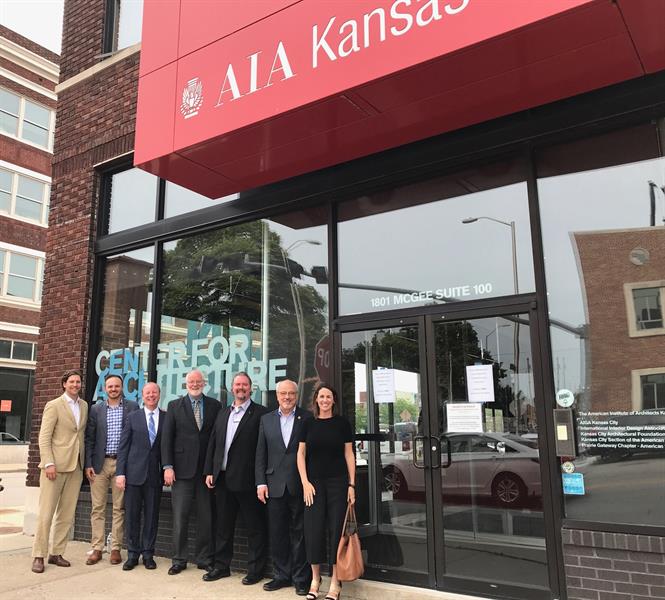 We are more than the buildings we produce; we are members of a greater community, and we can affect change with our skills and expertise. Our objective is to promote good design within our profession and community by way of positioning our chapter in the local and regional conversation. We will also strive to educate and inform our members on issues relating to our metropolitan area and beyond.
Locally, we have been meeting with city officials throughout the region in an effort to introduce what the AIA can offer communities in terms of public support and/or design expertise. We have a large organization that can help inform priorities for our communities, and can provide a vision for our shared future.
On the Missouri side, this last year's project procurement legislation that the AIA was pivotal and instrumental in drafting went into effect at the end of August. The bill allows, within specific stipulations and guidelines, public entities additional procurement models for project delivery including Design-Build and Construction Manager-at-Risk in addition to the current Design-Bid-Build model. This modernization of state statute succeeded because of diligent collaboration and negotiation amongst many industry organizations, not any one individual or entity.
If you are interested in learning more, or getting involved in our Advocacy Committee, please don't hesitate to reach out.
---
2019 City of KCMO Municipal General & Special Election

Our Advocacy Committee has sent volunteers to each of the six Kansas City mayoral forums, featuring candidates Councilwoman Jolie Justus and Councilman Quinton Lucas, as well as forums with City Council candidates. Some of our members were able to ask questions at the forums, depending on the format and size of the audience. The committee worked diligently to engage in these important election forums to represent YOU and our profession. Here are some highlights.
---
AIA Kansas City'S Statement on New Airport Terminal
AIA Kansas City Reaffirms Support for New Single Terminal at KCI

"AIA Kansas City is in complete agreement that the existing terminals and airside systems at KCI have served their useful life and are in dire need of upgrades to both support system and modern passenger facilities. The airport is largely the first impression for both business and leisure travelers, and at a time when Kansas City continues to present itself as a technology, innovation, and entrepreneurship hub, our airport experience needs to reflect and support the message of a welcoming and thriving environment. Moreover, as we look to compete on national and global stages, continual investment in our infrastructure is in the best interest of our future, as well as something businesses and organizations require to facilitate successful operations. AIA Kansas City reaffirms these points:
We support a new single terminal for KCI.
We advocate for inclusion of local architects, engineers, contractors, and designers in the design & construction process.
We applaud the City's requirement that the new terminal be certified LEED Gold.
"Kansas City is faced with a once-in-a-lifetime opportunity to remake the public face of one of our most essential civic assets. AIA Kansas City stands in full support of BetterKCI's campaign and we strongly encourage our members to come out and VOTE YES, on November 7th" said Marsha Hoffman, President of AIA Kansas City.

With the City's bold ambitions for our future, we agree the time to act is now. AIA Kansas City supports a "yes" vote on the November ballot question to approve a plan for a new airport."