Women in Design (WiD)
Women in Design is a committee devoted to promoting equal opportunities for women especially in the design professions, and supporting the efforts of women as they seek success, leadership, and growth in the workplace. Together, we celebrate the historic and present contributions of women, provide opportunities for networking and mentorship, share inspiration, vitality, and experiences that can inspire change, and advocate for equality and gender inclusion. We believe that there is strength in diversity. Men and women alike are invited to be part of this grand discussion as we share, learn and advocate for success.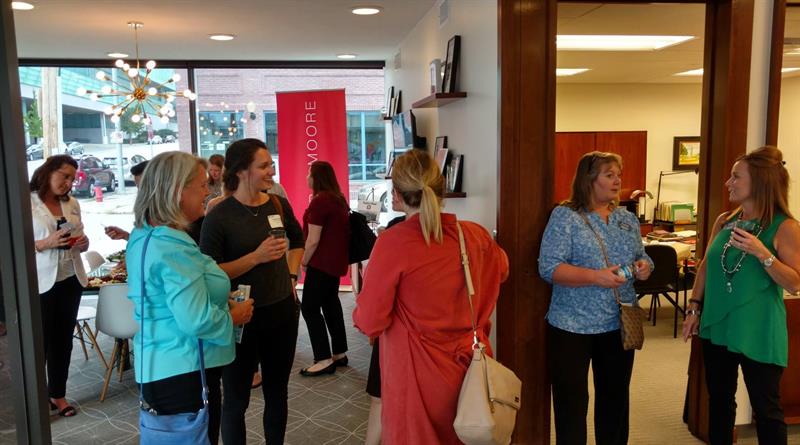 Meet the Co-Chairs
As Women in Design celebrates over a decade of successful programming, mentorship, and advocacy for women in design; we are very excited to take laeadership of this dedicated group of professionals. As a team, we are eager to guide WiD through quality programming, continuing to elevate the work we do as design professional in our local community, as well as gaining broader outreach to the national conversation on diversity and equity in architecture.

Jessica Symons has been with TreanorHL in Kansas City for three years now and has found so much passion in her involvement with the firm. She is excited to serve as a Co-chair of AIA Kansas City's Women in Design Committee this year! In 2012 she co-founded Women in Design K-State and has been in love with the program ever since. She has been an active participant in the USGBC Emerging Professionals, the planning board for Girl Scouts Cookie Construction, Equity in Architecture, CREW KC, and many more organizations. She recently traveled to Peru to oversee the construction and implementation of housing for medical volunteers to serve the impoverished communities along the Amazon River in Peru. In 2017 she won the AIA Kansas City Community Volunteer of the Year Award, and loves so much to give back. Jessica is active in her community as a member of AIA Kansas City and through her commitment to her church participation.

Emma Castro was born and bred in northwest Mexico. Emma holds a Bachelors of Architecture from Temple University, in Philadelphia. Always passionate about the positive impact of sports in youth, Emma found Kansas City as the town that could provide an opportunity to explore Sports Architecture. Emma joined Populous almost six years ago, where she has contributed to multiple phases of project design, working on arena, collegiate, MLB and NFL projects, as well as training facilities. At Populous, Emma is part of the sustainability group that promotes energy efficient design and helps projects achieve LEED Certification. With a commitment to our profession, Emma has been actively involved with AIAKC, since she moved into town. Emma has participated and taken advantage of the institute, and has volunteered for the Women in Design different sub-committees. She participates in activities that will shape a better and more diverse field of Architecture in the future.