Pillars Leadership Program
AIA Kansas City is proud to introduce Pillars, a leadership training program for AIA Kansas City members. The purpose is to prepare a representative cross section of the chapter's emerging leaders for their role in shaping the future of both the architectural profession and the greater Kansas City metropolitan area. The training program includes active participation in programs and exposure to community leaders and issues. Applications are accepted for the program once each year. Criteria for acceptance include proven career success and community involvement. The benefits of the program include: development of relationship skills, skill development, team performance, and chapter and community leadership.
Topics that will be discussed throughout the year include: politics and advocacy, academia and mentorship, business and legal issues, project delivery and partnership, communication methodologies, outreach, industry trends and economic development.

2019-2020 PILLARS CLASS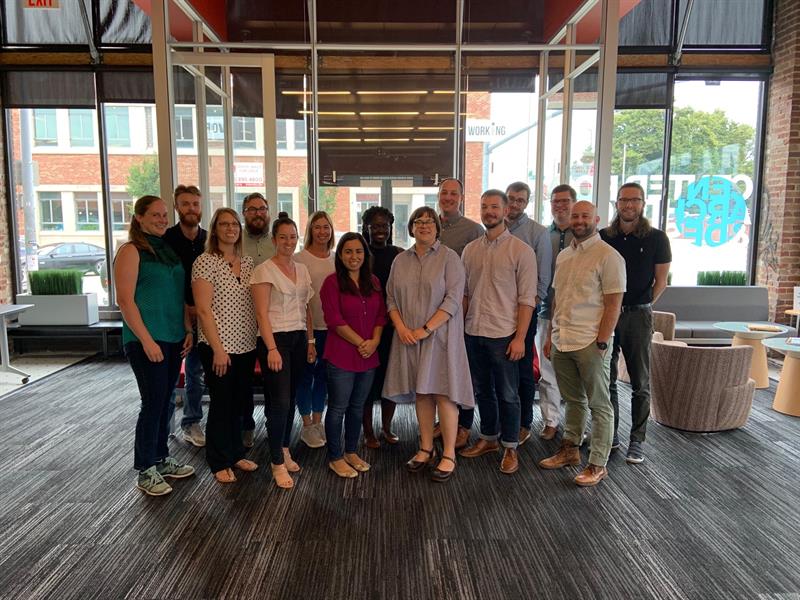 Gretchen Blain, AIA - Generator Studio
Laura Burkhalter - SFS Architecture
Steven Clark - Centric Projects
Sophie Dardant, Associate AIA - Burns & McDonnell
Tabitha Darko, AIA - HOK
Matt Enstrom - Stand Structural Engineering
Josh Hartman, AIA - Hermanos Design
Kirsten Hastings, AIA - BRR Architecture
Ben Hollon - Lankford | Fendler + Associates
Daniel Johnson, Associate AIA - BNIM
Bryan Kelly - Wallace Saunders
Sarah Kempf, AIA - Piper-Wind Architects
Philip Korthanke, AIA - Hollis + Miller Architects
Dan Meyer - Apex Engineers
Nina Riva, Associate AIA - Populous
---
October 2019 OverView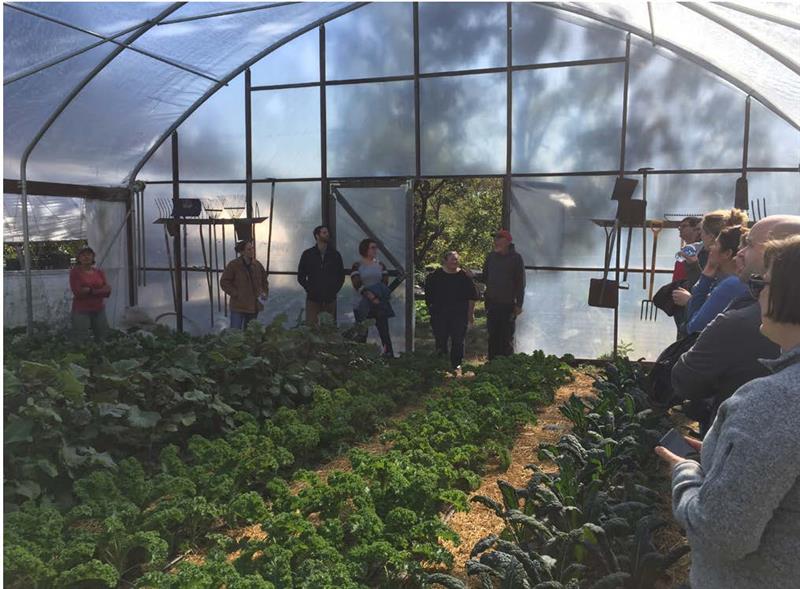 This October's session focused on food and farming. Appropriately, the session began with a group lunch in Waldo's Tower Park. Over sandwiches, Max Kaniger of Kanbe's Markets provided us with an in-depth look at food deserts in East Kansas City. He explained that the economics of traditional grocery stores do not work in areas where the population lacks personal cars for transportation. In East Kansas City, most residents buy their groceries on foot, so they are served by over 600 convenience stores.

Kanbe's Market partners with these stores to deliver fresh, healthy food to their customers. Most of the stores are small, family businesses without access to larger grocer distribution networks. Kanbe's provides each of the stores with a cooler, and stocks each cooler with fresh produce daily. Max explained how Kanbe's acquires produce through a variety of techniques--from donations to bartering with local businesses, helping eliminate food waste. Kanbe's also maintains the fresh supply of produce in each location they serve, helping to limit the individual businesses exposure to cost fluctuations and ensuring that their options are not over priced. We were surprised to learn Kanbe's only has three employees; this small team is making a big difference.

Following lunch, we headed south and east to Stony Crest Farm. Roger Kube greeted us with the history of the farm. The farm is located on a historic streetcar line and was originally home to the stockyard's first state agricultural inspector, veterinarian H.C. Babcock. Prior to the construction of the farm, the site was home to indigineous peoples, and eventually was the site of a civil war battle.

Roger and his spouse Diane Hershberger acquired Stony Crest with an eye toward gardening. Gardening quickly ramped up to a full-scale urban farming operation. Roger gave us a rare tour of the facilities, and provided the group with an in-depth explanation of urban farming techniques. We all enjoyed fresh kale, and marveled at the size of Roger's massive fig tree.

Next, Diane gave us an overview of the revitalization of the Marlborough neighborhood and her work with the Marlborough Community Coalition. Diane gave the group an overview of her background in civil engineering, including stops in Kansas City government and at Burns & McDonnell. She provided insight in the Coalition's efforts to create green spaces and encourage incremental development by working with the city and various stakeholders in the design community. Ms. Hershberger also explained the Coalition's land trust, which works to provide affordable home ownership to families in need.

After Stony Crest, we ventured to Urbavore Urban Farm in East Kansas City. Brooke Salvaggio and her husband Dan Heryer own and operate the farm with their two boys. Brooke gave us a tour of the farm's livestock, vegetable, and fruit operations. The group particularly enjoyed meeting the pigs, which serve both to manage the crops in a no till situation and as high-end pork for sale at farmers' markets. Brooke explained the farm's filtration system that brings water from a pond that captures rainwater on the site to supply potable water to the house. The farm also utilizes solar panels that are tied back to the grid. The panels also function to create a shelter for cleaning & sorting harvested vegetables, some equipment protection, and even drying clothes from the elements.Next, Brooke gave a tour of the barn, an evolving
structure. The barn currently consists of several rows of repurposed shipping containers. The containers are utilized to store harvested crops. One is refrigerated for storing pork. Prior to the introduction of this "frozen container," the farm was totally dependant on solar arrays, drawing net zero kilowat hours from the electrical grid.

Finally, Brooke gave us a tour of the family home, which was designed by Kansas City architects in exchange for produce from the farm. Their home represents their chosen lifestyle, simple and efficient. Their two bedroom "hobbit home" as she refers to it, was built mostly out of repurposed materials. Brook and Dan went out of their way to make sure that they were taking materials which would have been thrown into landfills, and used them to make walls, beams, windows and flooring for their beautiful home. The house has no heat or air conditioning and relies on the green roof and the earth berm it's built into to insulate it in the summers and winters, with a wood burning stove to supplement heat as needed.

Before leaving the farm, Brooke gave our group some honest insight into the ups and downs of farm life. She talked about how managing a farm with two children has made each day a
challenge, but filled them with love and fulfillment.

We concluded the day with cold beers at KC Bier Co and reflected on all we had learned.