Pillars Leadership Program
AIA Kansas City is proud to introduce Pillars, a leadership training program for AIA Kansas City members. The purpose is to prepare a representative cross section of the chapter's emerging leaders for their role in shaping the future of both the architectural profession and the greater Kansas City metropolitan area. The training program includes active participation in programs and exposure to community leaders and issues. Applications are accepted for the program once each year. Criteria for acceptance include proven career success and community involvement. The benefits of the program include: development of relationship skills, skill development, team performance, and chapter and community leadership.
Topics that will be discussed throughout the year include: politics and advocacy, academia and mentorship, business and legal issues, project delivery and partnership, communication methodologies, outreach, industry trends and economic development.

2018-2019 PILLARS CLASS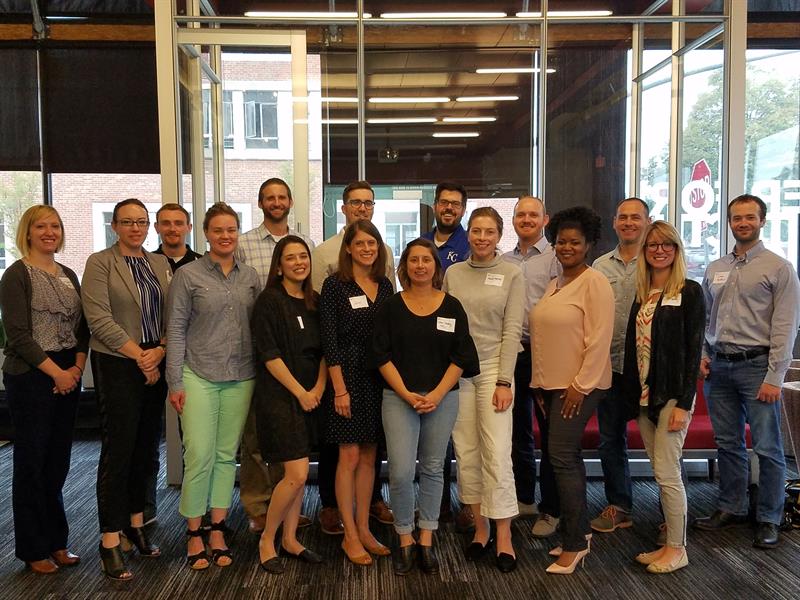 Nicholas Bosman, AIA - BRR Architecture
Diamond Bronson, AIA - Hoefer Wysocki
Zac Buckmiller - Lankford | Fendler + associates
Jesse Crupper, AIA - hufft
Julie Garvey, AIA - McCownGordon Construction
Janet Getz, AIA - TreanorHL
Ellen Hailey, AIA - Helix Architecture + Design
Nicole Mater, Associate AIA - DRAW Architecture + Urban Design
Ryan McCabe, AIA - BNIM
Danny McGrail - Henderson Engineers
Mandy Moore, Associate AIA - Odimo
Michael Patrick, AIA - Hollis + Miller Architects
Vanessa Petersen - PMA Engineering
Jean Stoverink, AIA - Gould Evans
Timarie Trarbach, Associate AIA - Populous
Callum Virthaler, AIA - Pulse Design Group
---
January 2019 OverView

In January, the Pillars class kicked off the session with a panel discussion for the Connecting Swope Study, fittingly located at the Southeast Community Center in Swope Park. The panel consisted of Sean Partain, Senior Transportation Planner at MoDOT; Shawn Strate, Planning Manager at KCATA; Beth Dawson, Senior Land Use Planner with MARC; and Joe Blankenship, Planner for KCMO. While the previous month's session explored, through multiple perspectives, the history and creation of Highway 71, its resulting impact to surrounding, severed neighborhoods, and its perpetuation of a racial and economic divide within the city, the beginning of January's session continued with a conversation on how to improve the connectivity of these areas today. Through investigation of current pedestrian networks, bus routes, and bicycle facilities, along with community outreach and long-term planning, several recommendations were produced to ensure safety, comfort, and ease while crossing Highway 71. Not only infrastructure and operations, but education and technology were among the various project types upon which to implement the improvements.
From new ordinances to opportunity zones, revitalization scenarios to alternative financing, considerable activity is taking place within this area of Kansas City. For the remainder of the session, the Pillars class continued to explore the current development of the east side Kansas City neighborhoods through the lens of community-based economic growth, empowerment, and social entrepreneurship. Following the Connecting Swope Study panel, the class heard a short presentation from Ruben Alonso, the President of AltCap. Ruben shared with the class AltCap's mission, which is to increase the flow of capital to communities and businesses not adequately served by traditional financial institutions. Whether it be through New Market Tax Credits, small business, or microloans, every Pillar learned that AltCap assists in delivering financing that supports job creation, small business investments, and community-focused development projects within distressed communities.
Having just learned of AltCap's involvement in the area, it was only natural to meet a few of its clients and experience the fruits of their labor, firsthand. With that said, the Pillars class proceeded to the 31st Street Corridor, bounded by Gillham Road and Troost Avenue. We first took a tour of Maker Village KC by co-owner, Nick Ward-Bopp. A catalyst for inspiring craftsmen/women and artists, Maker Village KC is a small community wood- and metal-working shop that empowers those through making. The Pillars group learned of open shop and classes being offered and were certainly inspired to come back to try one on their own! Following the tour, the class walked a few blocks to the east and enjoyed a juice break at Ruby Jean's Juicery, while listening to the story of its conception. Another client of AltCap, Ruby Jean's was opened by Chris Goode, having named the shop after his late grandmother, with the purpose of providing community health in a genuine approach. With its recent expansion and move into a larger space at 30th and Troost, Ruby Jean's goes above and beyond by providing meals at a reduced cost for living in the area.
Expanding upon the above, the Pillars class walked to Thelma's Kitchen, only one block to the south of Ruby Jean's. Thelma's is Kansas City's first pay-what-you-can cafe and is just one initiate of the local Reconciliation Services. Executive Director, Father Justin Mathews, shared an inspiring introductory of Reconciliation Services to the group, echoing its mission to transform Troost from a dividing line into a gathering place. While listening to all its services provided to the community, in addition to affordable food access, some Pillars were lucky enough to enjoy freshly baked bread pudding!
Finally, the Pillars class made it to the last destination of the walking tour near 27th and Tracy—Weave Gotcha Covered! Here, the group listened to an engaging and moving presentation of their business evolution by co-founders, Kelly Wilson and Lonnie Vanderslice. Everyone in the room learned that Weave Gotcha Covered is the epitome of social enterprise: solving social problems of unemployment related to negative life-circumstances, transportation barriers, generational poverty or addiction, through both their for-profit business and non-for-profit vocational learning center, The Sewing Labs. After touring the space with Kelly & Lonnie, the evening commenced with the annual white elephant Pillars party!
Learn | See | Do
Learn – We learned about the Connecting Swope Study.
See – We took a walking tour of local, small businesses surrounding 31st St. & Troost Ave.
Do – We enjoyed fresh juice at Ruby Jean's & bread pudding at Thelma's Kitchen.