Pillars Leadership Program
AIA Kansas City's Pillars Leadership Program is a training program that prepares a representative cross section of the chapter's emerging leaders for their role in shaping the future of both the architectural profession and the greater Kansas City metropolitan area. The training program includes active participation in programs and exposure to community leaders and issues. Applications are accepted for the program once each year. Criteria for acceptance include proven career success and community involvement. The benefits of the program include: development of relationship skills, skill development, team performance, and chapter and community leadership.
Topics that will be discussed throughout the year include: politics and advocacy, academia and mentorship, business and legal issues, project delivery and partnership, communication methodologies, outreach, industry trends and economic development.

2023 - 2024 PILLARS CLASS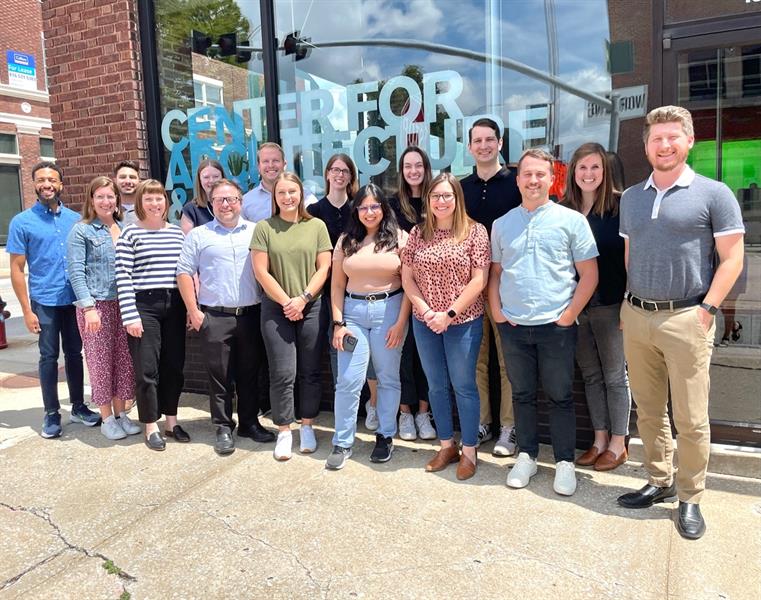 Sean Arkin, AIA - Centric
Yamil Camacho - Henderson Engineers
Erin Flaherty, AIA - Finegold Alexander Architects
Matthew Hollingsworth, Assoc. AIA - Hoefer Welker
Kelsey Humphrey, AIA - Multistudio
Travis Jennings - BSE Structural Engineers
James Kendall, AIA - Clark & Enersen
Dan Osburn, AIA - HOK
Chelsea Powell, AIA - Travois
Annie Ringhofer, Assoc. AIA - KEM Studio
Audrey Seaman - Populous
Megan Strayer, Assoc. AIA - Clark & Enersen
Prajakta Thipsay, Assoc. AIA - DRAW Architecture + Urban Design
Megan Vaeth - Health Facilities Group Architecture
Kelly Winkel, AIA - PGAV
Drew Yarnell, Assoc. AIA - HNTB
---
Pillars March 2023 Overview

For March's session, we explored the housing market and the unique challenges multiple jurisdictions face on each side of the state line. Every city around the metropolitan encounters different circumstances, but affordability was the common denominator of the day.
The day began at the Overland Park Historical Society's offices with a presentation by Ian Graves, city council member of the 6th ward of Prairie Village, KS. As we had previously discussed in our February session, Prairie Village was established as an affordable housing option by JC Nichols Co. for post World War II families. Today, this is a far different situation as many Kansas City area families cannot afford to live in the city. Ian Graves explained to the group the dynamics that challenge Prairie Village from the lack of housing types to the economics behind the "scrape and build". The group discussed the advantages of diversifying housing types around the city to make it economically feasible for members of the community like teachers, firefighters, and other service providers to live within city limits. Ian and fellow city council members are hoping to make this possible by amending the city's zoning regulations.
---
It Can Be Done

If you're craving a good story during this not-so-good year, here it is. It has passion, community spirit, designing for equity, chance encounters, history, and a focus on the future. And porch swings.
Our 2015-16 Pillars Leadership class is one of the main characters in this story, and they set in motion a remarkable chain of events that is resonating today.
Each year, the Pillars class completes a community service project as part of their program. After watching the documentary Our Divided City*, which focuses on the economic and racial divide that exists east of Troost, they learned about the needs of Oak Park Neighborhood Association (OPNA) to redevelop and bring a sense of community to their area.
Inspired by what they saw, these 16 Pillars decided to team up with the OPNA and develop a master plan for the northeast block of 39th & Prospect. They organized a day-long charrette in May 2016 to develop architectural ideas for the residential and commercial components, streetscape, parking, and community amenities. Their efforts grew from the hard work that OPNA had been doing to revitalize their neighborhood. Prior to the charrette, the Pillars toured the area and talked with residents about what would like to see be done to redevelop that block. The first tangible response from the Pillars was to deliver and install porch swings to 12 senior citizen residents of Oak Park.**
Forest Tyson, Jr. was born and raised in the Oak Park Neighborhood. His business, Tyson Brothers, LLC, is a construction and real estate development company headquartered there. Forest was featured in Our Divided City, and the Pillars class reached out to him after viewing the film to ask what OPNA needed. In a recent conversation with Forest, he pointed to that early conversation as the starting point for the exciting project taking shape today.
"We need housing plans for homeowners," was Forest's request. Most of the OPNA homeowners are elderly; younger people who rent in the neighborhood don't tend to stay around very long. With his knowledge and history of the neighborhood, Forest knew they wanted similar housing styles to what already existed.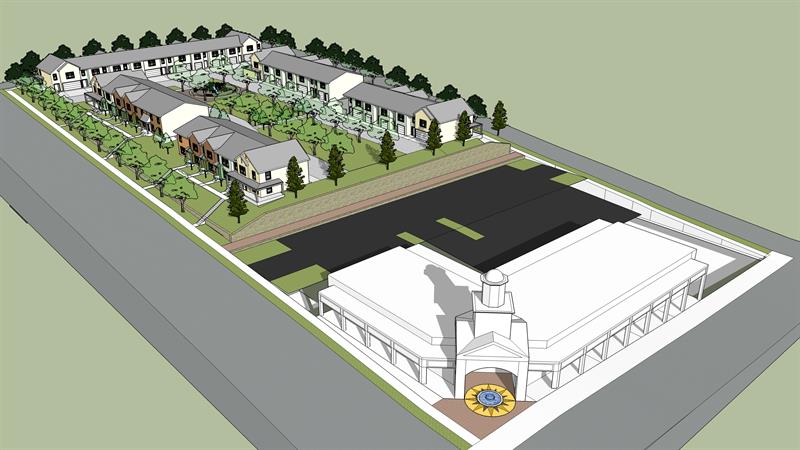 The renderings that came from the May charrette were delivered to Forest, along with the Neighborhood President Pat Clarke and the OPNA in June 2016. "The whole concept came from the Pillars," said Forest. It was "easy from there," giving him specific plans that he could sell to the OPNA stakeholders, City Council 3rd District, and [then] Mayor Sly James.
Forest used the renderings to communicate the vision for what this neighborhood east of Troost could achieve. The wheels were turning.
Fast forward to 2020…just 3.5 years after the Pillars charrette, their concepts and renderings are becoming a reality. An initial phase breaks ground this November. Thirty-nine 1-, 2-, and 3-Bedroom Townhouses with attached garages will be in the first phase, and commercial projects will be in the second phase. Forest dreams of a sit-down coffee shop and a Goodcents!
This is a major catalyst to spur more single-family residential development. "People can't miss this development" due to its prominent location. Forest knows what the negative perceptions of this area include: safety issues, blight, too many rental properties. But he is excited because he knows that 39th and Prospect is a major spur. "A lot of people are going to see that good things can happen in this area." OPNA's hard work in this neighborhood shows that the residents are dealing with what needs to be done.
A key component for the longevity of this project is having OPNA as co-developer of this project. They will ultimately gain stability through investment, residents who want to remain in the neighborhood, and businesses that feel connected to the residents. It is also of importance to note that "as Co-developer, it will allow OPNA to address some of the single-family housing the community desperately needs," Forest explained.
AIA Kansas City's efforts to connect our members with the community reached a new level with this Pillars project. Ongoing contact between OPNA and Pillars makes future collaboration a possibility. Putting action to our strategic plan statement that good design is a human right is more important than ever. Each Pillars class is a unique group that sets its own goals and outcomes; an ambitious outreach project like this was one-of-a-kind. But this experience shows that architects have both a role and a responsibility to make our communities equitable – it can be done, by design.
*Made by Michael Price, presented on KCPT. The film won the national 2017 NETA award in the Documentary category.
** The porch swings were generously built and donated by the Western Missouri Carpenters Joint Training Program.