Pillars Leadership Program
AIA Kansas City is proud to introduce Pillars, a leadership training program for AIA Kansas City members. The purpose is to prepare a representative cross section of the chapter's emerging leaders for their role in shaping the future of both the architectural profession and the greater Kansas City metropolitan area. The training program includes active participation in programs and exposure to community leaders and issues. Applications are accepted for the program once each year. Criteria for acceptance include proven career success and community involvement. The benefits of the program include: development of relationship skills, skill development, team performance, and chapter and community leadership.
Topics that will be discussed throughout the year include: politics and advocacy, academia and mentorship, business and legal issues, project delivery and partnership, communication methodologies, outreach, industry trends and economic development.

2020 - 2021 PILLARS CLASS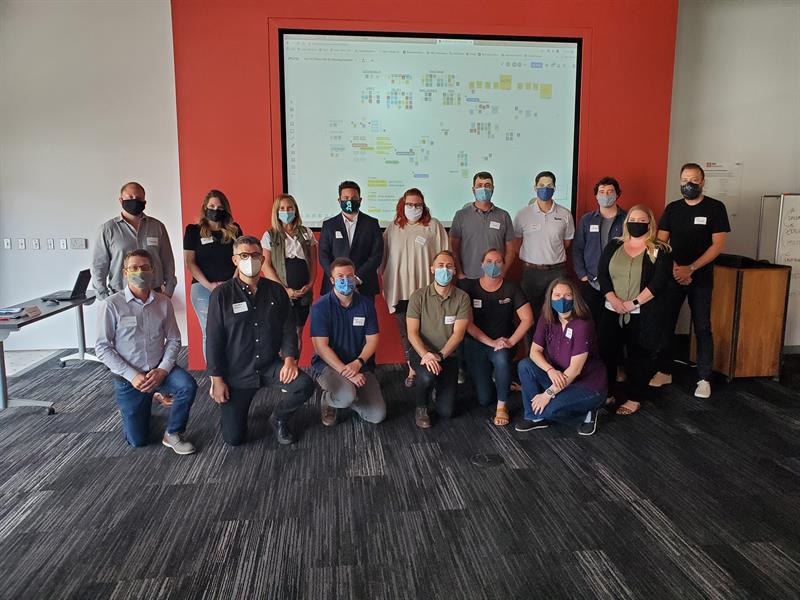 Jake Brannon, Assoc. AIA - Gould Evans
Ashlee Deck, AIA - ACI Boland
Andrew Fabin, Assoc. AIA - RMTA
Trevor Freeman, Assoc. AIA - Pulse Design Group
Justin Gomez, AIA - Hoefer Wysocki Architecture
Harriet Grindel, AIA - SFS Architecture
Mackenzie Koepke - New Horizons LLC
Michael Kopper - Turner Construction
Annie Merrill - HOK
Tim Ockinga - JE Dunn Construction
Kevin Pearson - Smith & Boucher
Chris Penland, AIA - Studio Build
Dan Pierce, AIA - GLMV Architecture
Jessica Reed-Shultz, AIA - Finkle + Williams Architects
Mike Schwaller, AIA - Helix Architecture + Design
Allison Wonder, AIA - The Clark Enersen Partners
---
December 2019 OverView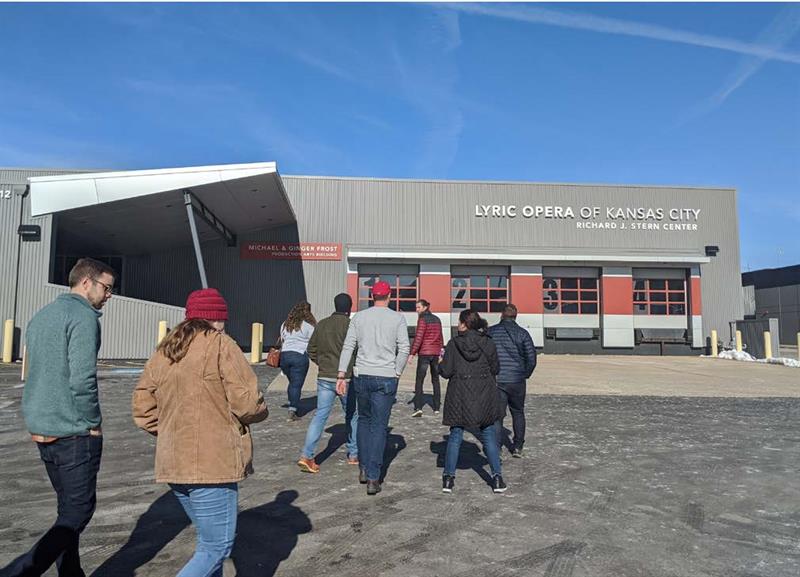 The December session was focused on Arts and Culture in the Kansas City area and the various industries and art-forms that contribute to that growth. We began our day at the Lyric Opera of Kansas City where we were given a tour by Joe Bellinger, Chief Development Officer. Their location in the crossroads houses all of the operational aspects needed to deliver a polished opera show at the Kauffman Performing Arts Center. Aside from learning a bit about the history of the Opera company and how it emerged in Kansas City, we were also able to get a glimpse of the back-stage process including the intricacies that go into set and costume designs. Although Opera is a fine art that is not easily accessible or understood by a large amount of the population in our society, this Opera company is doing its best to also include contemporary plays that can relate to the culture of today.

Next we visited Machine Head where the owner, Dick Jobe, gave us a run-down of the work that they do in their workshop and the artistry that goes into it. The projects that machine head takes on in Kansas City and around the country are geared towards helping artists realize 3-dimensional art pieces that require metal work. Through utilizing this skill-set, Dick and his employees have been engaged in various art pieces that enhance and beautify public spaces around the city. He expressed that this type of work brings immense meaning and fulfillment to him and enjoys that his installations are able to influence the human experience.

We then stopped by Hilliard Gallery in the crossroads and the curator of that space, Bob Swearengin, talked through the many ways we can advocate for artists, the importance of the
creative work being done, and how it enriches our community. Jennifer Walker, a local artist with her work currently on display at the gallery, discussed the inspiration for her resin sculptures that are colorful, dimensional, abstractions reminiscent of captivating sunsets and thunderstorms.

She sees her work tying back to nature and being able to psychologically and emotionally soothe people who engage with her pieces. During this stop, we were also able to understand the time and effort that goes into creating an art piece, how an artist can price and market their work, and other logistical aspects of the art business.

Our final meet-up was with Joe Munson who is an artist, sculptor, and fabricator. He creates carefully crafted pieces that span the spectrum of simple aesthetic beauty to immense functionality, but no matter what, all of his projects possess a level of craft, innovation, and complexity. We talked through several of his pieces and took a look at two of them that were installed at the Corrigan Station Building Development. One being a small translucent light-filled box on the rooftop containing bar functionalities, and the other kinetic wind-powered reflective gold wings installed on the parking garage that respond to wind activity. Overall, we
learned how he, as an artist, makes a point to effectively coordinate with building developers and designers in order to properly integrate inspired artwork into particular spaces.