Pillars Leadership Program
AIA Kansas City is proud to introduce Pillars, a leadership training program for AIA Kansas City members. The purpose is to prepare a representative cross section of the chapter's emerging leaders for their role in shaping the future of both the architectural profession and the greater Kansas City metropolitan area. The training program includes active participation in programs and exposure to community leaders and issues. Applications are accepted for the program once each year. Criteria for acceptance include proven career success and community involvement. The benefits of the program include: development of relationship skills, skill development, team performance, and chapter and community leadership.
Topics that will be discussed throughout the year include: politics and advocacy, academia and mentorship, business and legal issues, project delivery and partnership, communication methodologies, outreach, industry trends and economic development.

2020 - 2021 PILLARS CLASS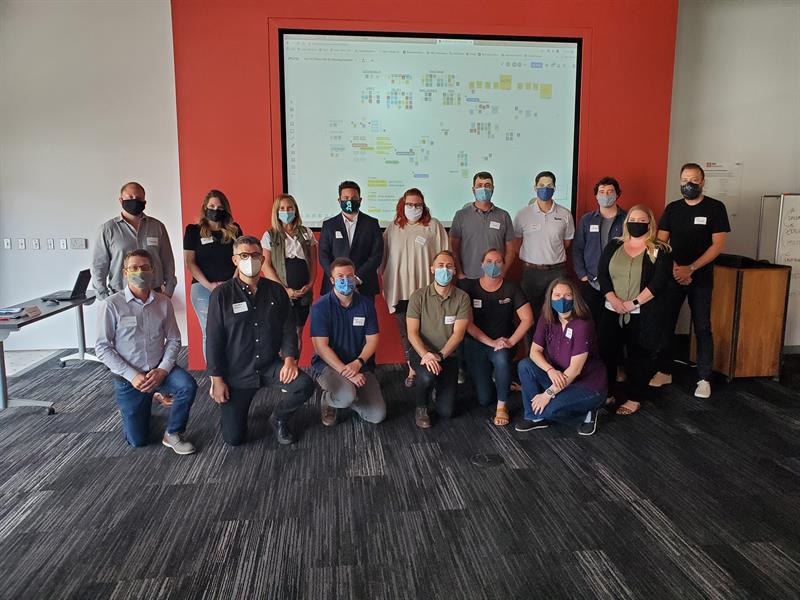 Jake Brannon, Assoc. AIA - Gould Evans
Ashlee Deck, AIA - ACI Boland
Andrew Fabin, Assoc. AIA - RMTA
Trevor Freeman, Assoc. AIA - Pulse Design Group
Justin Gomez, AIA - Hoefer Wysocki Architecture
Harriet Grindel, AIA - SFS Architecture
Mackenzie Koepke - New Horizons LLC
Michael Kopper - Turner Construction
Annie Merrill - HOK
Tim Ockinga - JE Dunn Construction
Kevin Pearson - Smith & Boucher
Chris Penland, AIA - Studio Build
Dan Pierce, AIA - GLMV Architecture
Jessica Reed-Shultz, AIA - Finkle + Williams Architects
Mike Schwaller, AIA - Helix Architecture + Design
Allison Wonder, AIA - The Clark Enersen Partners
---
It Can Be Done

If you're craving a good story during this not-so-good year, here it is. It has passion, community spirit, designing for equity, chance encounters, history, and a focus on the future. And porch swings.
Our 2015-16 Pillars Leadership class is one of the main characters in this story, and they set in motion a remarkable chain of events that is resonating today.
Each year, the Pillars class completes a community service project as part of their program. After watching the documentary Our Divided City*, which focuses on the economic and racial divide that exists east of Troost, they learned about the needs of Oak Park Neighborhood Association (OPNA) to redevelop and bring a sense of community to their area.
Inspired by what they saw, these 16 Pillars decided to team up with the OPNA and develop a master plan for the northeast block of 39th & Prospect. They organized a day-long charrette in May 2016 to develop architectural ideas for the residential and commercial components, streetscape, parking, and community amenities. Their efforts grew from the hard work that OPNA had been doing to revitalize their neighborhood. Prior to the charrette, the Pillars toured the area and talked with residents about what would like to see be done to redevelop that block. The first tangible response from the Pillars was to deliver and install porch swings to 12 senior citizen residents of Oak Park.**
Forest Tyson, Jr. was born and raised in the Oak Park Neighborhood. His business, Tyson Brothers, LLC, is a construction and real estate development company headquartered there. Forest was featured in Our Divided City, and the Pillars class reached out to him after viewing the film to ask what OPNA needed. In a recent conversation with Forest, he pointed to that early conversation as the starting point for the exciting project taking shape today.
"We need housing plans for homeowners," was Forest's request. Most of the OPNA homeowners are elderly; younger people who rent in the neighborhood don't tend to stay around very long. With his knowledge and history of the neighborhood, Forest knew they wanted similar housing styles to what already existed.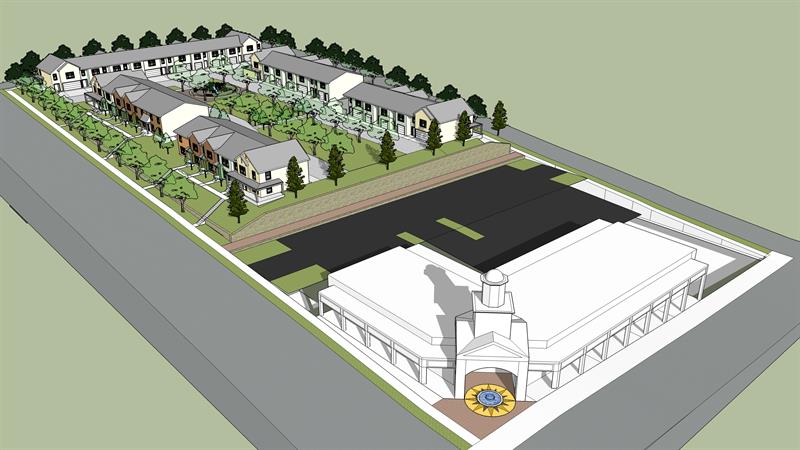 The renderings that came from the May charrette were delivered to Forest, along with the Neighborhood President Pat Clarke and the OPNA in June 2016. "The whole concept came from the Pillars," said Forest. It was "easy from there," giving him specific plans that he could sell to the OPNA stakeholders, City Council 3rd District, and [then] Mayor Sly James.
Forest used the renderings to communicate the vision for what this neighborhood east of Troost could achieve. The wheels were turning.
Fast forward to 2020…just 3.5 years after the Pillars charrette, their concepts and renderings are becoming a reality. An initial phase breaks ground this November. Thirty-nine 1-, 2-, and 3-Bedroom Townhouses with attached garages will be in the first phase, and commercial projects will be in the second phase. Forest dreams of a sit-down coffee shop and a Goodcents!
This is a major catalyst to spur more single-family residential development. "People can't miss this development" due to its prominent location. Forest knows what the negative perceptions of this area include: safety issues, blight, too many rental properties. But he is excited because he knows that 39th and Prospect is a major spur. "A lot of people are going to see that good things can happen in this area." OPNA's hard work in this neighborhood shows that the residents are dealing with what needs to be done.
A key component for the longevity of this project is having OPNA as co-developer of this project. They will ultimately gain stability through investment, residents who want to remain in the neighborhood, and businesses that feel connected to the residents. It is also of importance to note that "as Co-developer, it will allow OPNA to address some of the single-family housing the community desperately needs," Forest explained.
AIA Kansas City's efforts to connect our members with the community reached a new level with this Pillars project. Ongoing contact between OPNA and Pillars makes future collaboration a possibility. Putting action to our strategic plan statement that good design is a human right is more important than ever. Each Pillars class is a unique group that sets its own goals and outcomes; an ambitious outreach project like this was one-of-a-kind. But this experience shows that architects have both a role and a responsibility to make our communities equitable – it can be done, by design.
*Made by Michael Price, presented on KCPT. The film won the national 2017 NETA award in the Documentary category.
** The porch swings were generously built and donated by the Western Missouri Carpenters Joint Training Program.
---
December 2019 OverView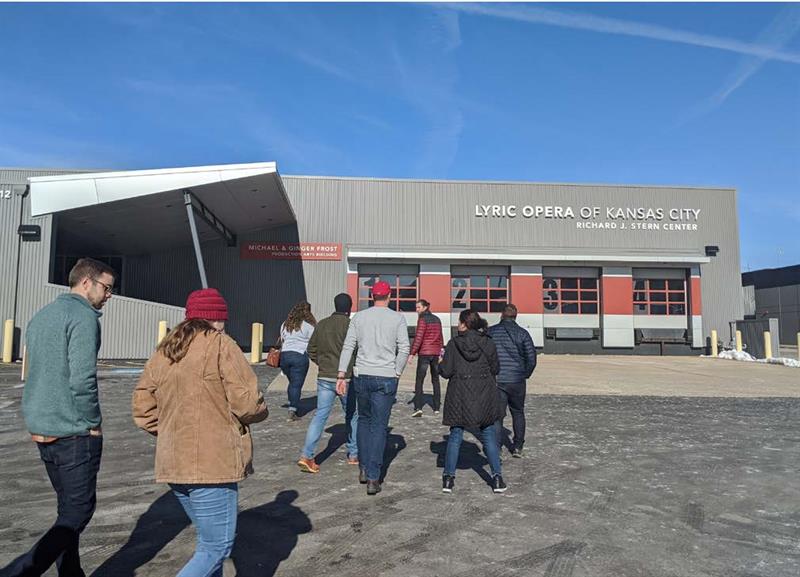 The December session was focused on Arts and Culture in the Kansas City area and the various industries and art-forms that contribute to that growth. We began our day at the Lyric Opera of Kansas City where we were given a tour by Joe Bellinger, Chief Development Officer. Their location in the crossroads houses all of the operational aspects needed to deliver a polished opera show at the Kauffman Performing Arts Center. Aside from learning a bit about the history of the Opera company and how it emerged in Kansas City, we were also able to get a glimpse of the back-stage process including the intricacies that go into set and costume designs. Although Opera is a fine art that is not easily accessible or understood by a large amount of the population in our society, this Opera company is doing its best to also include contemporary plays that can relate to the culture of today.

Next we visited Machine Head where the owner, Dick Jobe, gave us a run-down of the work that they do in their workshop and the artistry that goes into it. The projects that machine head takes on in Kansas City and around the country are geared towards helping artists realize 3-dimensional art pieces that require metal work. Through utilizing this skill-set, Dick and his employees have been engaged in various art pieces that enhance and beautify public spaces around the city. He expressed that this type of work brings immense meaning and fulfillment to him and enjoys that his installations are able to influence the human experience.

We then stopped by Hilliard Gallery in the crossroads and the curator of that space, Bob Swearengin, talked through the many ways we can advocate for artists, the importance of the
creative work being done, and how it enriches our community. Jennifer Walker, a local artist with her work currently on display at the gallery, discussed the inspiration for her resin sculptures that are colorful, dimensional, abstractions reminiscent of captivating sunsets and thunderstorms.

She sees her work tying back to nature and being able to psychologically and emotionally soothe people who engage with her pieces. During this stop, we were also able to understand the time and effort that goes into creating an art piece, how an artist can price and market their work, and other logistical aspects of the art business.

Our final meet-up was with Joe Munson who is an artist, sculptor, and fabricator. He creates carefully crafted pieces that span the spectrum of simple aesthetic beauty to immense functionality, but no matter what, all of his projects possess a level of craft, innovation, and complexity. We talked through several of his pieces and took a look at two of them that were installed at the Corrigan Station Building Development. One being a small translucent light-filled box on the rooftop containing bar functionalities, and the other kinetic wind-powered reflective gold wings installed on the parking garage that respond to wind activity. Overall, we
learned how he, as an artist, makes a point to effectively coordinate with building developers and designers in order to properly integrate inspired artwork into particular spaces.