Equity in Architecture (EIA)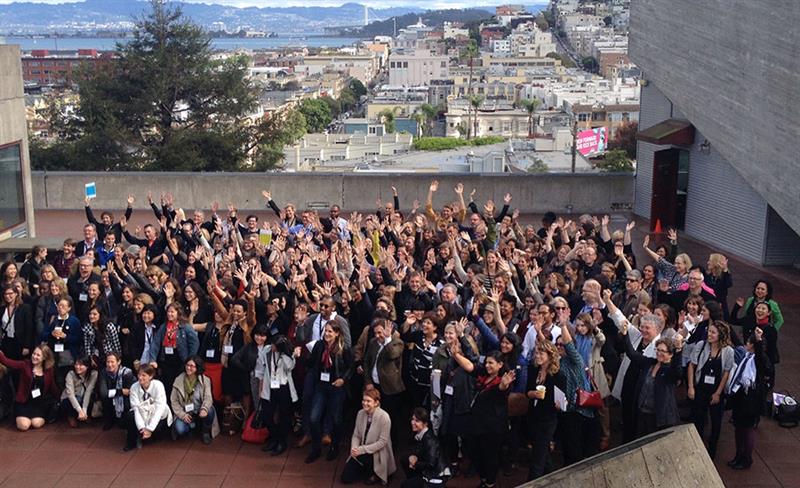 On January 25th at the Center for Architecture & Design, we celebrated the release of the AIA Kansas City Equity in Architecture 2017 Survey Report through a panel discussion on diversity, inclusion, and equitable practice inspired by the report's key findings. As a committee of AIA Kansas City, Equity in Architecture identifies its "A.C.E." goals to Advocate, Connect, and Educate membership to improve industry awareness and success on issues around diversity, inclusion, and equitable practice.
The AIA Kansas City Equity in Architecture 2017 Survey Report is an effort to understand our chapter's perception and goals with regards to diversity, inclusion, and what enables workplace success for all. Our goal in this endeavor is to amplify the successful measures our community is taking toward a more diverse, inclusive and equitable profession as well as to highlight growth opportunities for continued progress toward that outcome. We hope this report inspires conversation in our chapter, in our community, and in our profession.
---
Equity in Architecture Spotlight:
Gould evans

Equity in Architecture "2018 Featured Spotlights" recognizes local architecture firms that incorporate examples of best practices for creating equitable, diverse, and inclusive environments in the workplace and in the community. Equity in Architecture celebrates these firms for elevating the priority of social ethics and social responsibility within and beyond office policies.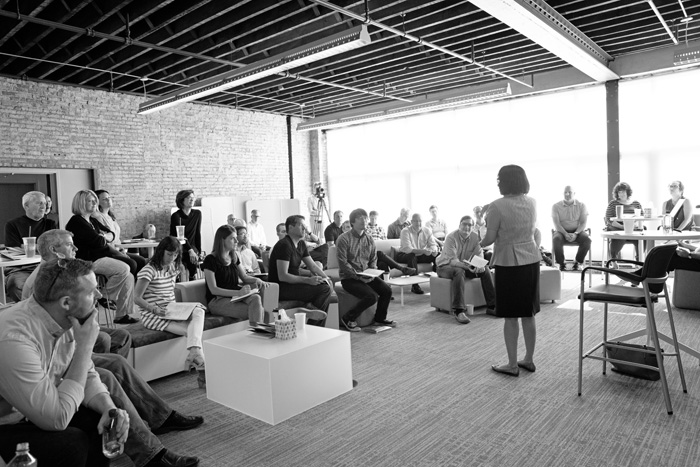 Firm Name: Gould Evans
Year Founded: 1974
Firm Size: 75 in KC office alone. 160 across all 5 offices.
Location(s): Kansas City, Lawrence, New Orleans, Phoenix, San Francisco
Project Types: Civic, Corporate/Offices, Education (K-12 + Higher Ed), Religious, Residential

What are key company policies that create an equitable environment at your firm?
Paid leave for both primary and secondary caregivers welcoming a new child (3 weeks; 2 weeks respectively)
40 hours of paid time off for licensing or certification exams (ARE, LEED, NCIDQ, AICP)
Payment for exams (once for each exam) and for license in practicing state.
Provision of study materials for exams (book format and online subscriptions)
Offers $3000 one time pay increase following first licensure
How has your firm engaged in equity in architecture and in the profession beyond company policy?
Gould Evans supports flexible work time schedules
Gould Evans allows parents to bring children and dogs into the office while they work and maintains a play area for small children.
Gould Evans sponsors employees to attend NOMA and EQxD conferences on a regular basis.
Gould Evans tracks gender and ethnicity representation across our offices and performed our first Equity/Pay audit in January 2017.
How have your design projects addressed diversity & inclusion in the communities you serve?
Gould Evans works with a variety of clientele and communities. We offer services to large and small organizations and have done work with non-profits including ReStart, KIPP Academy, and KC Pet Project.
Gould Evans donates space to STEAM studio, providing a hands-on Learn Lab for K-12 students across Kansas City, offering exposure to a professional environment and access to our 75 creative professionals.
Gould Evans supports local artists through a variety of means. We frequently open the office to showcase art in our Mill Street Gallery and have engaged artists in our projects to look at space from their unique perspective. We offer work space to assist in these collaborations when needed.
How has your company benefitted from improving diversity & inclusion?
More dynamic office culture
Greater employee satisfaction/ Improved mentorship opportunities
Ability to understand and connect with a broader client base (example: ability to fully staff an all-girls' school project with female professionals in varying stages of their careers)