Pillars Leadership Program
AIA Kansas City is proud to introduce Pillars, a leadership training program for AIA Kansas City members. The purpose is to prepare a representative cross section of the chapter's emerging leaders for their role in shaping the future of both the architectural profession and the greater Kansas City metropolitan area. The training program includes active participation in programs and exposure to community leaders and issues. Applications are accepted for the program once each year. Criteria for acceptance include proven career success and community involvement. The benefits of the program include: development of relationship skills, skill development, team performance, and chapter and community leadership.
Topics that will be discussed throughout the year include: politics and advocacy, academia and mentorship, business and legal issues, project delivery and partnership, communication methodologies, outreach, industry trends and economic development.

2017-2018 PILLARS CLASS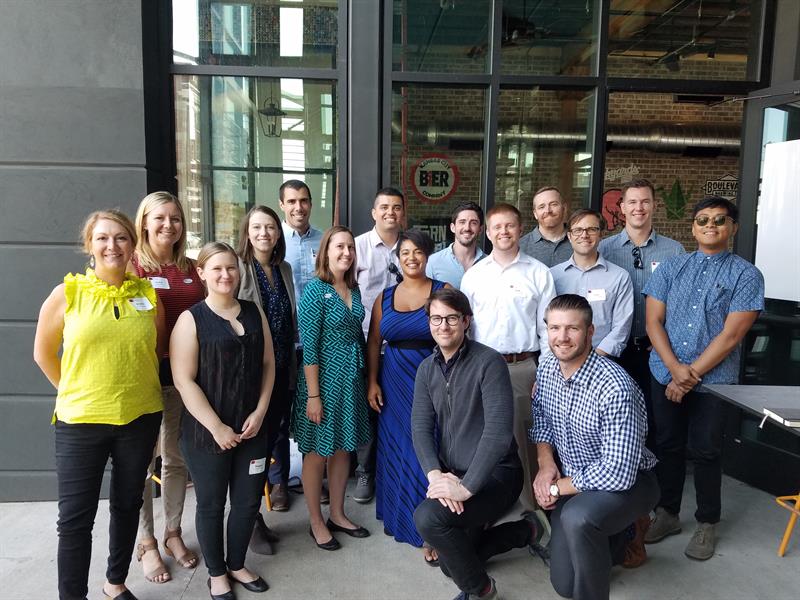 Andres Alfaro, Associate AIA - Helix Architecture + Design
Maggie Loveall - Image Flooring
Nadav Bittan, Associate AIA - BNIM
Bryce Cummings, AIA - Hoefer Wysocki Architecture
Alli Hill, Associate AIA - Pulse Design Group
Doug Hurt, AIA - Gould Evans
Jackie Kolpek - DLR Group
Zach Loy - Turner Construction
Christina McCoy - Thornton Tomasetti
JJ Nicolas, Associate AIA - HOK
Marcus Perry - Henderson Engineers
AJ Prizzi, AIA - HNTB
Brooke Schnurr - Centric Projects
Paul Spears - Stand Structural Engineering, Inc.
Lindsay Tatro, AIA - SFS Architecture
Branden Vissat, Associate AIA - Hufft

---
February & March 2018 Overviews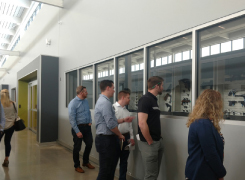 In February Kansas City Pillars looked at the issue of housing and homelessness. Unsurprisingly, this issue is not as simple as finding shelter for people. It branches into topics of mental health, substance abuse, and crime and safety. To better understand these issues, the group had to dig into these tough topics and better understand the resources KC has to offer to alleviate these problems.
Our first stop was reDiscover Transitional Living Program, located at 75th and Wornall. These new apartments, designed by local architects El Dorado, house young adults transitioning out of foster care, with an emphasis on individuals with a mental health diagnosis or substance abuse problems. Counseling services are conducted on site. We heard from the operators, and learned of the design process, which had interesting challenges such as community resistance and designing for a unique user group.
The group moved on from reDiscover to the new Veterans Community Project, which recently opened the first thirteen of their "village" of tiny homes. These houses provide living space for men and women who formerly served in the armed forces. In addition, there are additional mental health and community building services available on site. The leaders of this organization showed a strong passion for helping the Veteran community, and had quite a few inspirational stories for the group. While the February session touched on the issue of crime and safety, in March the group dived deeper to take a closer look. This session visited the Kansas City Police Department East Patrol and Crime Lab and the Urban Neighborhood Initiative. Although these two groups have different mission statements, they have one thing in common: the safety and well-being of neighborhood constituents in east Kansas City.
The Kansas City Police Department East Patrol Campus was recently built with the intention of being a spark of redevelopment for the community it serves. Pillars learned of the unorthodox development of this site, which included the abatement and tear down of over 90 vacant properties in order to place this in one of the most crime-prone zip codes in Kansas City. Various officers shared their experiences from being part of the police force, and spoke to their view on the changing nature crime in the East Patrol district.
After a tour of the station and crime lab, the group headed to the headquarters of the non-profit Urban Neighborhood Initiative. This organization was established to revitalize neighborhoods in a target area of Kansas City's urban core – which shares most of its area with the East Patrol zone. They focus on safety, prosperity, and education. They discussed various strategies, based on research and successful tested approaches elsewhere, they are trying to implement in order to bring revitalization to this area.