Licensure
AIA Kansas City is committed to advising and assisting aspiring architects navigate the path to licensure. If you are just starting your journey, please see the helpful links below. Don't hesitate to contact your local Architect Licensing Advisor, Amy Tonyes, with any questions. Here are some helpful links to get you started.
Destination: Architect: Planning for your Professional Road Trip
Destination: Architect: Getting it Done
Getting started with NCARB
Participate in an Architectural Experience Program
Take the Architect Registration Exam

Architect Registration Exam (ARE)
AIA Kansas City continues to provide support for interns who are preparing to or have already embarked on the journey to licensure. Hard copies of study materials are available for AIA members to check out for two weeks at a time. Other support includes registered practicing professional instructed study sessions. These study sessions are open to AIA Associate members.

ARE Resources
NCARB ARE Study Guides
ARE Community
ARE 4.0 Video Prep Series

ARE Success Teams
This program teams up individuals preparing to start the examination, and helps future architects overcome testing challenges through a supportive, small group setting. Applications for ARE Success Teams go out each December.
---
Licensure Matters:
Laura Beth Cochran, AIA

Licensure Matters is a monthly series where we feature newly licensed members in an effort to inspire those currently on their journey. If you're newly licensed and want to be a part of the conversation email amy@aiakc.org.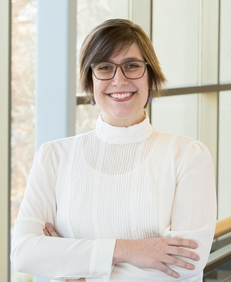 How long did it take for you to complete your experience and all of the divisions of the exam?
I completed my IDP in just over three years and completed my exams in one year, five months.
What was your study/test taking strategy?
I scheduled one exam at a time, anywhere from 6-8 weeks in advance. During these preparatory weeks, I studied as I could in the evenings and every weekend. I chose to take PPP, SPD, and CD first and followed with BDCS, SPD, SS, and SD. I began each endeavor by reading—moving through the Ballast and Kaplan study materials and then progressing to flash cards, online and human resources. I had an incredible 'HR' network at home, at the office, and through the AIA. As I had questions, I would reach out to colleagues and work to understand the issue by means of project application. Additionally, I took incredible comfort in conversation with good friends simultaneously moving through the testing process.

Generally, two weeks prior to an exam, I would take a practice test and then again just before my test date. My father became the flashcard guru and, nearing each exam, would run them with me again and again.

Moving through the testing process, I discovered that I much preferred testing first thing in the morning. This strategically limited my time to fret over the exam, day-of!
How did you stay motivated?
My testing experiences measured the gamut, from low to high. At times, I felt pride, accomplishment, and joy at discovery; and then, disappointment, humiliation, and fear. I worried that I couldn't do it, but then found peace in the knowledge that I surely shouldn't believe everything that I think. I did not pass every exam the first time and failing was difficult to accept. That said, sharing the testing process with friends and family made these failures easier, as I had support and encouragement to try again. By the same token, friends and family certainly shared joy in my successes as well.
Why was earning a license important to you?
I want to contribute positively to the world around me and I saw opportunity for growth and learning in the licensure process. Without being cliché, to do my best, I want to be my best—by embracing challenge and committing to succeed.
What advice do you have for others going through the process?
Allow yourself grace through the process, seek out and create community for support, and practice patient persistence.
How did your firm support your journey?
Momenta, now a part of DLR Group, provided great support and encouragement. The firm reimbursed passed exams, provided time off to take the exams, and supported a flexible schedule to accommodate extra study time as was required. Momenta paid for study materials and presented me with a bonus upon completion of the exams.
What are three skills that every architect needs in their toolkit?
Patience and humility to LISTEN.
Passion and desire to SERVE.
Creativity and hope to IMAGINE.