Licensure
AIA Kansas City is committed to advising and assisting aspiring architects navigate the path to licensure. If you are just starting your journey, please see the helpful links below. Don't hesitate to contact your local Architect Licensing Advisor, Amy Tonyes, with any questions. Here are some helpful links to get you started.
The Basics
Establishing Your NCARB Record
Start the AXP
Start ARE 5.0
Get Licensed
---

Architect Registration Exam (ARE)
AIA Kansas City provides support for Associates who are preparing to, or have already, embarked on the journey to licensure. Hard copies of study materials are available for Associate members to check-out for two weeks at a time. The chapter has prep material from Brightwood and PPI and a wealth of additional resource materials available. In addition, study sessions for all six divisions of the ARE are held throughout the year and are led by recently licensed members and local engineering experts. These study sessions are open to AIA Kansas City members.
---

ARE Resources
Join the ARE 5.0 Community
NCARB ARE 5.0 Video Prep Series
Pass the ARE
---

ARE Success Teams
This program teams up individuals preparing to start the examination, and helps future architects overcome testing challenges through a supportive, small group setting. Applications for ARE Success Teams go out each December. You must be an AIA
Kansas City member to participate
---
Licensure Matters:
Whitley fields, AIA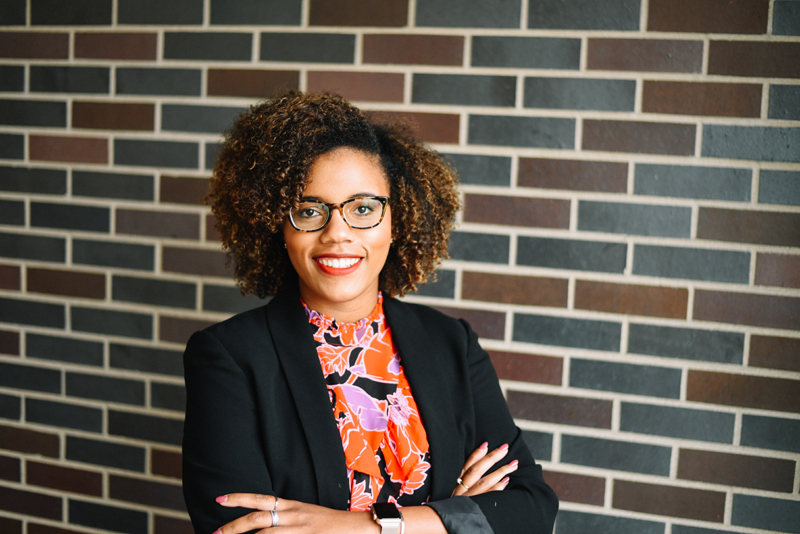 Licensure Matters is a monthly series where we feature newly licensed members in an effort to inspire those currently on their journey. If you're newly licensed and want to be a part of the conversation email amy@aiakc.org.

How long did it take for you to complete your experience and all of the divisions of the exam?
I finished my experience hours within about 2-3 years. Near the completion of my experience hours I started testing so there was a bit of overlap between the two requirements. Testing took me another 2 years with about a year and a half break in between. In hindsight, testing and gaining experience hours simultaneously would have gotten me done a lot quicker, however, having the practical experience under my belt did help me when it came to studying and referencing real world scenarios.
What was your study/test taking strategy?
My original strategy was to take all 7 divisions in one year as a member of the AIA KC ARE Success Team. I think this group is a great option for those looking to get exposure and guidance on sitting for the ARE and getting it done quickly, however, the pace of taking 7 exams in one year was just too fast for me and my work load at the time. I completed the year with a couple exams passed. When I regrouped and created my own study schedule I realized that focusing on just two exams with overlapping material worked for me. I would take those fairly close together and wouldn't move on to any other exams until I passed those and repeated that process until I was eventually done. I was able to retain more information for any retakes with this strategy.
How did you stay motivated?
Staying motivated was definitely hard which explains the year and a half break in my testing. My biggest motivators were family, friends, and colleagues who would often check in on my progress and keep me encouraged. Maybe you don't have to tell as many people as I did, but I suggest letting some close friends and family know about your endeavors to help hold you accountable for the goals you've set for yourself.

Why was earning a license important to you?
I am my ancestors wildest dream...As an African American female Architect my license is important to me simply because representation matters. In 2018 only 0.2-0.3% of Architects were African American females. I wish to use my license not only as a necessary tool for advancement in my professional career but as stepping stone for minorities interested in the Field of Architecture to know that it can and has been achieved.

What advice do you have for others going through the process?
START. If licensure is something you desire, why wait? The sooner you get started the sooner you will finish! Plus, the exams, requirements, and cost change from time to time, so don't get caught having to meet additional requirements or paying more because you waited to start!
TRUST THE PROCESS. Licensure doesn't happen overnight for ANYONE! You may fail a division or two but guess what? You are allowed retakes. Consider the process a rite of passage. "The Licensure Club." You'll have stories to swap for years to come.
FINISH. It's possible! You can and you WILL finish.
How did your firm support you?
My firm (SFS Architecture) was very supportive during the licensure process. Here are the few tangible items but nothing beats the consistent encouragement to complete the licensure process!
Provided assigned NCARB AXP Advisor
Cover NCARB Record Fees (yearly)
Study Materials and Resources
PTO to sit for each exam division
Reimbursement for passed exams
Salary increase upon completion of licensure
Cover licensure fees for (1) state license. (bi-annually)
What do you think is the biggest challenge that the profession currently faces?
With the ever-growing popularity of home improvement shows and channels such as HGTV, I believe one of many challenges the profession is currently facing is ensuring those outside the design profession remain educated on what we do. Viewers are often exposed to only a tiny portion at a much smaller scale of the services and skills architects can provide. The value in what we do can be lost simply because some are led to believe they can do-it themselves.