Licensure
AIA Kansas City is committed to advising and assisting aspiring architects navigate the path to licensure. If you are just starting your journey, please see the helpful links below. Don't hesitate to contact your local Architect Licensing Advisor, Amy Tonyes, with any questions. Here are some helpful links to get you started.
Destination: Architect: Planning for your Professional Road Trip
Destination: Architect: Getting it Done
Getting started with NCARB
Participate in an Architectural Experience Program
Take the Architect Registration Exam

Architect Registration Exam (ARE)
AIA Kansas City continues to provide support for interns who are preparing to or have already embarked on the journey to licensure. Hard copies of study materials are available for AIA members to check out for two weeks at a time. Other support includes registered practicing professional instructed study sessions. These study sessions are open to AIA Associate members.

ARE Resources
NCARB ARE Study Guides
ARE Community
ARE 4.0 Video Prep Series

ARE Success Teams
This program teams up individuals preparing to start the examination, and helps future architects overcome testing challenges through a supportive, small group setting. Applications for ARE Success Teams go out each December.
---
Licensure Matters:
Amy kinderknecht, AIA

Licensure Matters is a monthly series where we feature newly licensed members in an effort to inspire those currently on their journey. If you're newly licensed and want to be a part of the conversation email amy@aiakc.org.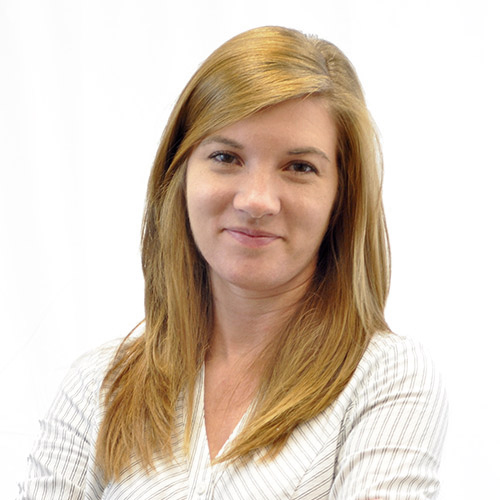 How long did it take for you to complete your experience and all of the divisions of the exam?
I started with my first test in 2013, about 2 years after I started working professionally and I actually failed the first one. It wasn't the best start to the process but I did pass a different test a couple months later. A year later, in 2014, I joined AIA Kansas City's inaugural ARE Success Team and was able to finish the other 6 tests in 12 months.

What was your study/test taking strategy?
The ARE Success Team played a major part in my test taking strategy. We set our test schedule as a group and we had an obligation to each other to maintain that schedule. We met twice a month to go over multiple-choice questions and review vignette strategies. Outside of our group meetings, the local coffee shop became my new hot spot (I don't drink coffee so I consumed a lot of hot chocolate that year!). I was there nearly every Saturday and Sunday for at least 4 hours each day, reading through material and making notecards for myself. I also spent a couple hours several nights during the week doing the same. It was definitely rigorous, but I still think hitting it hard and fast is really the way to go.

How did you stay motivated?
Passing a test is a huge motivator. Failing that first one was hard, but I started passing test after test, it became that much easier to feel like I could take on another one. Eventually I was half way done and at that point you might as well finish them.

Why was earning a license important to you?
The title of architect is protected and is so for a reason. Everything that we do really is for the health, safety and welfare of the public, no matter how big or small a design decision might seem. I made the commitment to pursuing my license because I wanted to be able to say that I understood and respected that title and what it means as a professional.

What advice do you have for others going through the process?
Just get started, stay with it and find others who are going through it as well. I was incredibly intimidated by the prospect of it all after spending six years in college and a very busy work schedule. It was daunting to convince myself to take that first test, let alone that I was even ready when test day came or to find out I'd failed it! But passing that second test made me realize that maybe I could do this. And the ARE Success Team really made a world of difference. During those first couple tests, before our Team formed, I didn't know many people who wanted to pursue their license, so it really felt like I was the only person that understood how intense a process it was. But when I was introduced to eight other people who were going through this at the same time, my mindset completely changed. Now I had this great support system that I could ask questions about material I didn't quite understand and that I knew were also sitting in a stark testing room for hours on end as well. I also now had people to celebrate a pass with who truly understood how hard we had each worked to earn it.

How did your firm support your journey?
I worked at two different firms during the process of taking my AREs and both were incredibly supportive. The first firm I was at would pay for my first taking of each test, any retakes were out of my pocket; they also paid for my time off to take the test. The second firm paid for my time off to take the test, and I received a bonus when I passed them all. Both of these firms also had testing material that I could take to study.

Could you tell us about a mentor who has been influential to your career? What did he/she teach you?
I had two of the best project managers and a very organized boss during my first job out of college. The two project managers were willing to explain anything that would help me understand the why of what we were doing and involved me in the entire process. And my boss at the time shared so much information about schedule and budget with the team that it really taught me to take a certain sense of ownership of any project I touched. In those first years out of college, where there is such a huge leap between designing in school and working on projects that would actually be built, I took lessons from all three of these people that have taught me a lot of discipline both in how I work day to day and in how I interact with clients, contractors and the entire design team.