Licensure
AIA Kansas City is committed to advising and assisting aspiring architects navigate the path to licensure. If you are just starting your journey, please see the helpful links below. Don't hesitate to contact your local Architect Licensing Advisor, Amy Tonyes, with any questions. Here are some helpful links to get you started.
Destination: Architect: Planning for your Professional Road Trip
Destination: Architect: Getting it Done
Getting started with NCARB
Participate in an Architectural Experience Program
Take the Architect Registration Exam

Architect Registration Exam (ARE)
AIA Kansas City continues to provide support for interns who are preparing to or have already embarked on the journey to licensure. Hard copies of study materials are available for AIA members to check out for two weeks at a time. Other support includes registered practicing professional instructed study sessions. These study sessions are open to AIA Associate members.

ARE Resources
NCARB ARE Study Guides
ARE Community
ARE 4.0 Video Prep Series

ARE Success Teams
This program teams up individuals preparing to start the examination, and helps future architects overcome testing challenges through a supportive, small group setting. Applications for ARE Success Teams go out each December.
---
Licensure Matters:
Dirk Henke, AIA

Licensure Matters is a monthly series where we feature newly licensed members in an effort to inspire those currently on their journey. If you're newly licensed and want to be a part of the conversation email amy@aiakc.org.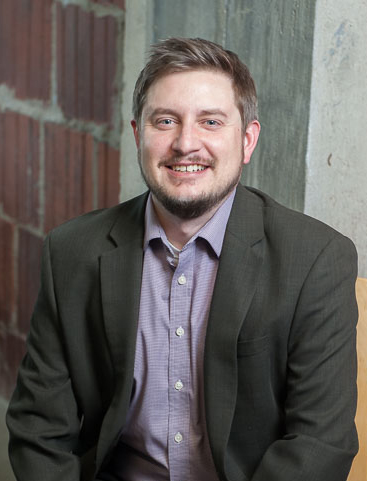 How long did it take for you to complete your experience and all of the divisions of the exam?
It took about 2.5 years for me to complete - what was at the time - IDP, and a little over a year to complete all of the divisions of the exam, however, I actually started my ARE journey in 2008. I passed two divisions, failed two, including a retake due to the software crashing on the last of 3 BDCS vignettes, got discouraged, and before I knew it, 5+ years had lapsed. I sacrificed my passed exams due to the rolling clock, which compounded my frustration. At some point I had a tough internal monologue with myself, and turned defeat into motivation. After getting some wind in my sails, and restarting fall of 2016, before I knew it, I had cleared the hurdles.

What was your study/test taking strategy?
Fortunately, a dozen years of practice has a way of teaching you a lot of what you need to know in terms of life safety, accessibility, and public health and welfare, which is the core knowledge base that the exams are testing you on.
That said, my study regimen was about an hour every evening, for 1-3 months prior to the exams, depending on my comfort level with the division. I spent a third of this time repeatedly practicing the vignette software to get my timing down. I'm glad these mystical creatures are being phased out. At the same time, having finally conquered them, I'm a little sad soon into the future, no one will know the kind of joy of having been in the trenches, sweating bullets in a windowless exam room, drawing 3 foot diameter circles that look like ovals because the screen's aspect ratio is not calibrated to the software, seconds ticking off the clock, then spending a week wondering if you checked that one particular piece of furniture for proper clearances.

How did you stay motivated?
My wife was very encouraging, as well as my employers, coworkers, friends, and family. It also helped to get a few of those "PASS" notifications under my belt. I'm old enough to remember when notices came in the mail after a month plus, with those pass/fail notifications in 8 point font; kudos to NCARB for the progress they've made with their web interface and posting results.
I'd add that, whatever additional sense of urgency I experienced from the ARE 4.0 transitioning to 5.0, and the respective, truncated schedule, I strongly feel that the next time a transition is made, candidates should be allowed a 5-year overlap from the time the next generation of exams is rolled out, in order to fairly account for those sitting for the current version. When I asked NCARB how this decision was made, the response was that a 5 year 'message campaign' was established, and that the decision to limit the overlap to 1.5 years was related to contractual agreements in place with vendors and cost implications to candidates. Message campaign aside, if the decision is mainly related to financial impact, I would suggest that candidates pay a premium fee to sit for the version being phased out, rather than force them to forfeit passed divisions.

Why was earning a license important to you?
There is a strong perception from the outside world that, much like doctors and lawyers, those practicing architecture need to be licensed in order to be reputable. Although I know plenty of folks without a license who are arguably better at the profession than those with, I don't wholly disagree with this sentiment. I felt detached from the profession in this way, not being able to truly call myself an architect. Now I can convey this warm fuzzy feeling to my clients and colleagues, and it definitely feels good to have the piece of paper and credentials, something tangible to support all of the years of dedication and hard work I've devoted to this honorable profession.

What advice do you have for others going through the process?
As a word of encouragement to those folks in my shoes, who have been in practice for many years, and have persistent distress about getting licensed, I just want to say "I've been there, had life get in the way, had my own brain telling me it's a fool's errand, and not a measure of how good I am as a person or as an architect", and for the most part I was right, but also, just do it for yourself already. Give yourself the gift of not worrying about this step in your career anymore. You know this stuff. You know you are good at what you do. Just get it done. Find a pace that works for you and force yourself to study in a way that makes sense to you.
For recent graduates, if you take any advice from me at all, please don't stop asking questions. The thing that makes this profession so great is that you will never know all there is to know, and those who pretend to, it's their loss for not being more curious and humble enough to want to learn from others and improve. You have to enjoy the adventure and soak up as much information as possible. Also, don't take my license path (14-year process), but don't depend on things like that to define you either. There is a lot of ARE content that is based on things we do every day in practice. Learn code, ADA, AIA contracts, life safety, proper use of materials, wall sections, and common-sense construction techniques. That's what you should get out of the AREs. The outside world will definitely see your license and credentials as something that makes you more trustworthy, but strive to get to a point where you can back that up. Get yourself to a place where you could take on a project without help from anyone and I assure you, that knowledge base and ability will make you feel better and more confident than passing multiple choice questions that represent a fraction of what you'll encounter in practice.

How did your firm support your journey?
All of the firm's I've worked for since I started this journey have been extremely supportive and encouraging, embracing licensure as a vital step in my career, and have offered financial reimbursement for passed exams.
Of the 33 architectural staff members at SFS Architecture, 19 are licensed, and 9 are actively pursuing licensure, plus 5 NCIDQ certified interior designers. In addition to full exam reimbursement, SFS pays for AIA memberships, NCARB dues for registered architects, and state license renewal.
I consider myself very lucky when it comes to the firm's I've worked for; all have given me as much rope as I can climb, and have pushed me to be the best and most knowledgeable architect I can be. Self-reliance in this profession is most often a necessity, but there is nothing more important than employer support, not only reducing the financial burden and offering benefit incentives, but more importantly, providing one's staff with a well-rounded experience, the emotional support and educational means to become licensed.

What are 3 skills that every architect needs in their toolkit?
I thrive on the principle that good design is collaborative as much as it is intuitive, and being humble, open-minded, and curious leads to the most innovative discoveries and solutions. Practicing architecture is a rewarding career, and often not in one big way, but lots of little ones. I find joy in pushing myself further every day, and strive to exceed the expectations of my clients and colleagues. Architecture for me is about unwavering attention to detail and utilizing technical knowledge in an artful and enduring way. I look back enough to learn, but look forward before that turns into complacency, always reaching to what possibilities lie ahead.