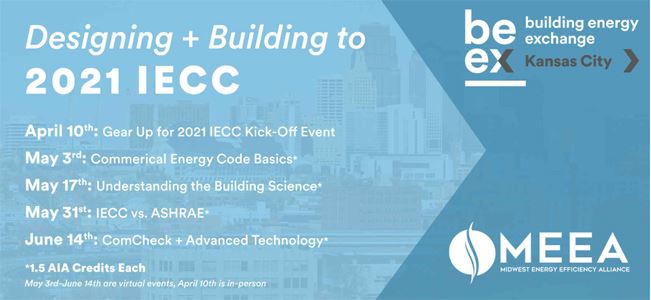 May 31, 2023
Industry Events > Industry Events
Building Energy Exchange KC: Designing + Building to 2021 IECC Part 3
11:00 AM
Virtual | Virtua Kansas City, MO 64108 Map
Join us for our third workshop diving into the details of the 2021 energy code!
IECC vs. ASHRAE. The 2021 IECC references ASHRAE 90.1 as an alternative compliance path. This session provides an overview of ASHRAE 90.1 standards and considers when it can best be utilized.
Midwest Energy Efficiency Alliance and Building Energy Exchange KC are bringing you a series of educational workshops to position you and your company to be ready to take on projects under the new standard. Kansas City, Missouri recently adopted the 2021 International Energy Conservation Code which will take affect July 1st of this year. For designers and contractors, upgrading the energy code from its 10+ year old predecessor will include significant changes to building envelope requirements, mechanical/ventilation, and the compliance process.