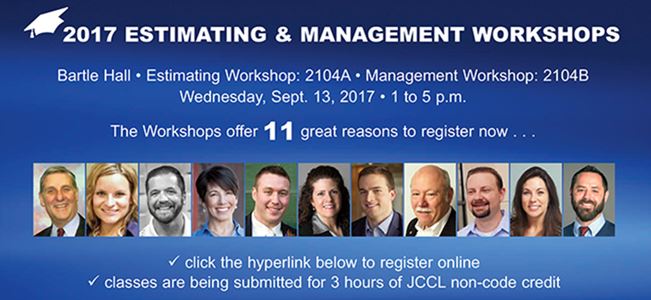 September 13, 2017
Industry Events > Industry Events
The Builders' Association: Estimating and Management Workshops
1:00 PM
Bartle Hall | 301 W 13th Street Kansas City, MO 64105 Map
Management Classes:
Negotiations: A human relations approach
Presenter: Ron Cox, President, Dale Carnegie Kansas City and Erin Simpson, Vice President of Instruction, Dale Carnegie Kansas City
Now hiring! Opportunities in the field and office
Presenters: Isha-Mori Kassen, Project Manager, Sanders Management, Inc.; Barb Allen, Construction Project Executive, The Cordish Companies; Jeffrey Valentino, Project Manager, Burns & McDonnell; Cody Showalter, Project Manager, McCownGordon Construction; Matt Cline, Sr. Estimator, E&K of Kansas City, Inc.
What are your profits? Learn how to maximize them
Presenter: Luther Salonen, CCIFP, Salonen CFO Services & Consulting, LLC.
Estimating classes:
Streamlined quantity takeoff with Bluebeam Revu 2017
Presenter: Nick Decker, Sr. Industry Specialist | Strategic Development, Bluebeam Inc.
Leveraging BIM in estimating: Prepare for some possible pitfalls
Presenter: Corey Bell, General Manager, Building Point Mid-America
Ethics in estimating: Legal options for victims of unethical estimating
Presenter: Heather Shore, Shareholder, Brown & Ruprecht Attorneys at Law
Includes admission, food and 2 drink tickets at the Contractors' Expo immediately following.
Participants can choose to attend any of the classes in either workshop

Date: Wednesday, September 13, 2017
Workshops: 1:00 - 5:00 p.m. (sign in begins at 12:30 p.m.)
Contractors' Expo: 5:00 - 7:00 p.m. (includes admission, food and 2 drink tickets)
Cost: Professional $120, Construction Leadership Council Member $100, Full-Time Student $60